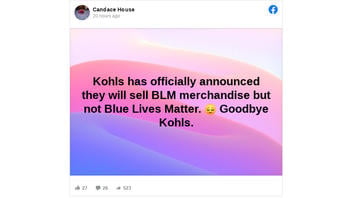 Does Kohl's only sell Black Lives Matter apparel and no Blue Lives Matter apparel? No, that's not true: Kohl's sells cowboy boots with a stitched-on Thin Blue Line patch, one symbol of the Blue Lives Matter pro-police organization. Starting September 21, Kohl's will also be selling Black Lives Matter clothing bearing symbols of the organization that seeks race-related reform of police forces. The retailer has not announced it would only sell Black Lives Matter merchandise and none from Blue Lives Matter.
The claim appeared in a Facebook meme (archived here) where it was published on September 17, 2020. It read:
Kohls has officially announced they will sell BLM merchandise but not Blue Lives Matter. 😔Goodbye Kohls.
This is what the post looked like on Facebook at the time of writing:
(Source: Facebook screenshot taken on Fri Sep 18 13:28:30 2020 UTC)
Black Lives Matter is a Black-centered political group organized in response to the 2013 acquittal of George Zimmerman, a criminal justice student who shot and killed Trayvon Martin, a Black teenager, in 2012. Zimmerman was questioned but released by police who said his claim that he shot Martin in self-defense was covered by Florida's "Stand Your Ground" law. Black Lives Matter advocates for police reforms that it says will reduce "state-sanctioned violence" against Black people.
Blue Lives Matter is a counter-movement, organized in response to anti-police statements publicized following Ferguson, Missouri police officer Darren Wilson's 2014 shooting of Michael Brown. Blue Lives Matter seeks legislation making it a hate crime to kill a police officer. Among the symbols adopted by the movement is a U.S. flag with black replacing red on the stripes and a blue strip separating the upper seven stripes from the lower stripes, to symbolize the police standing between law-breakers and law-abiding citizens.
Thin blue line flags have been criticized as hateful, as they were flown alongside Confederate flags by protestors at the 2017 "Unite the Right" rally in Charlottesville as well as by counter-protestors at a Black Lives Matter protest in South Dakota in June of this year. Thin Blue Line leaders have decried those uses, distancing the police organization from white supremacists.
The claim that Kohl's does not sell Blue Lives Matter merchandise came following Kohl's announcement that they would be launching a Black Lives Matter clothing line.
Kohl's sells Dan Post cowboy boots with thin blue line symbols on both the front and back.
Kohl's, which is headquartered in the Milwaukee suburb of Menomenee, announced it will be releasing Black Lives Matter clothing in collaboration with Cream City Print Lounge, a Black-owned t-shirt printing business in Milwaukee. Along with the launch, Kohl's donated $100,000 to the National Urban League, an organization that strives to "enable African Americans to secure economic self-reliance, parity, power and civil rights," according to its official Facebook page.
The announcement of the Black Lives Matter clothing line and the donation to the National Urban League came on the heels of an even larger donation toward furthering racial equality in the Milwaukee area: $1 million divided up among five local non profits including The Milwaukee Urban League, Employ Milwaukee, Acts Housing, Safe & Sound, and the Boys & Girls Clubs of Greater Milwaukee.The Kohl's statement on the million dollar donation read in part:
The five benefiting nonprofits include three new Hometown partners -- The Milwaukee Urban League, Employ Milwaukee (EMI), and Acts Housing -- and a renewed commitment to two of Kohl's existing Hometown partners -- Safe & Sound and Boys & Girls Clubs of Greater Milwaukee. The partnerships reflect a joint commitment between Kohl's and area nonprofits to improve equity and economic empowerment for Black and Hispanic residents in under-served communities in the Milwaukee area. In addition to financial contributions, Kohl's will support the nonprofit organizations through associate volunteerism, leadership engagement and creating opportunities for a talent pipeline to Kohl's.
Kohl's spokesperson Julia Fennelly said the company does not support or endorse political parties, candidates or organizations:
The benefiting organization of this collection is the National Urban League. This is one example of t-shirt assortments Kohl's has introduced to support the many customers and communities we serve, including an assortment of Pride graphic tees for customers to show their support of the LGBTQ+ community, and a collection celebrating Hispanic Heritage. When we celebrate diverse people, customers and communities, including Black, Hispanic and historically underrepresented communities, it's not a political statement, but rather a purposeful affirmation of every individual and family we serve.
Lead Stories reached out to Kohl's media team and executive office. This report will be updated, if appropriate, when they reply.