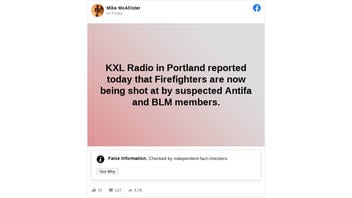 Did a Portland radio station report that Black Lives Matter and Antifa protesters were shooting on September 11, 2020, at firefighters trying to bring out-of-control wildfires under control? No, that's not true. It was never reported by KXL radio despite a widely distributed Facebook post making the claim, forcing the station's news director to post a denial on Facebook and on the station's website.There have been no reports of firefighters being shot at while trying to extinguish the Western blazes.
The claim appeared as a meme in a post (archived here) published to Facebook on September 11, 2020, by a Facebook user named "Mike McAllister" with following text:
KXL Radio in Portland reported today that Firefighters are now being shot at by suspected Antifa and BLM members."
This is what the post looked like on Facebook at the time of writing:
(Source: Facebook screenshot taken on Mon Sep 14 14:04:38 2020 UTC)
The supposed shootings were not reported anywhere.
The poster, McAllister, says on his Facebook About page that he is from Chehalis, Washington. He describes himself this way:
I am a Born Again Christian, and a seasoned Firefighter. I hold the rank of Captain with Lewis County Fire District 16. I have been married to Roben for 26 years and the Father of three great kids. I love baseball and tend to remember myself being a lot better then I was the older I get. Seems the right thing to do.
KXL's website made is clear in a September 13, 2020, post that McAllister's claim was false:
By Jim Ferretti, News Director, FM News 101 KXL

Portland, Ore. -- On Friday, September 11, 2020, someone with no connection to FM News 101 KXL posted a statement on their personal Facebook page that KXL reported "Firefighters are now being shot by suspected Antifa and BLM members" At no time did KXL report this.

KXL has requested Facebook remove the post as false news.

FM News 101 KXL's policy is to always fact check every story.
On a post containing the meme, Ferretti wrote:

McAllister's post drew hundreds of comments -- some asking him to take it down, and many anit-BLM or against Antifa -- and nearly 10,000 shares, showing how much, and how quickly, fake information about the phantom shootings and KXL spread.
It is not clear from the post which of the many fires scorching the U.S. West that McAllister was referring to in his post. Calls to the fire district in Lewis County, Washington, where he says he works did not go through. It was not clear if McAllister did, or still does, work there, although he does appear making a tribute to a fallen firefighter on this page, called SupportHeroes.org.
This is not the only fake news being spread connecting BLM and Antifa to the wildfires, particularly in the Portland area, where protests have been going on since the May 25 death in Minneapolis of George Floyd, who was killed by police officers now facing charges.
Consider this from the Portland office of the FBI:
FBI Portland and local law enforcement agencies have been receiving reports that extremists are responsible for setting wildfires in Oregon. With our state and local partners, the FBI has investigated several such reports and found them to be untrue. Conspiracy theories and misinformation take valuable resources away local fire and police agencies working around the clock to bring these fires under control. Please help our entire community by only sharing validated information from official sources.
Lead Stories has debunked some of the claims, including this story: Fact Check: Western Wildfires Are NOT Evidence Of A Coordinated Campaign To "Burn The Country Down."