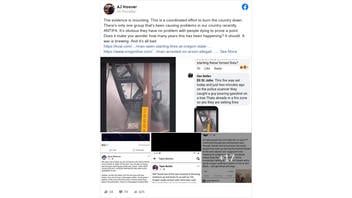 Are wildfires raging on the West Coast evidence of a coordinated campaign by Antifa to "burn the country down"? No, that's not true: Although authorities have reported at least two arrests for arson, they have specifically said the claim of an Antifa forest fire campaign is 100% false and repeatedly asked the public to stop spreading rumors. Those posting the claim have offered no evidence linking Antifa to the fires. The FBI's Portland office tweeted a statement making it clear the rumors were false.
The claim appeared in a Facebook post (archived here) on September 10, 2020. The post read:
The evidence is mounting. This is a coordinated effort to burn the country down. There's only one group that's been causing problems in our country recently, ANTIFA. It's obvious they have no problem with people dying to prove a point. Does it make you wonder how many years this has been happening? It should. A war is brewing. And it's all bad.
This is what the post looked like at the time of writing:
(Source: Facebook screenshot taken on Fri Sep 11 13:53:33 2020 UTC)
The post included links to five news stories, including two that detailed the arrests of people accused of intentionally starting fires. Notably, one of the five stories has been corrected to say that there is "no evidence to tie the wildfires to either far-right or far-left activists." Also important to note: None of the local news stories mentioned Antifa, a loosely coordinated movement of antifascist activists.
Authorities have contradicted the false claims.
The FBI's Portland office posted two messages via Twitter. They read:
Reports that extremists are setting wildfires in Oregon are untrue. Help us stop the spread of misinformation by only sharing information from trusted, official sources.
September 11, 2020
Elsewhere in Oregon, the Douglas County Sheriff's Office said its staff was being overrun by requests for information about the claim that Antifa activists were arrested for setting fires. "Unfortunately, people are spreading this rumor and it is causing problems. Do your part, STOP. SPREADING. RUMORS!" the Sheriff's Office said in a Facebook post.
The Jackson County (Oregon) Sheriff's Office similarly decried the spread of false information and urged the public to check reliable and authoritative sources.
Finally, police in Medford, Oregon were forced to respond to a false post on social media that reported -- wrongly -- the arrests of five people in connection to a string of fires.
Joy Krawczyk, a spokeswoman with the Oregon Department of Forestry, told Lead Stories that many of the fires still burning remain under investigation. She wrote:
Once the immediate threat to life and safety has subsided, our focus will shift to getting the fires suppressed. We need to address those two priorities before fire investigators can safely do their jobs. That being said, I haven't seen or heard anything that indicates that the statewide wildfires we're battling are the result of a coordinated, politically-driven arson campaign.
At Lead Stories, neither have we. Here are links to our most recent stories on the wildfires and Antifa: