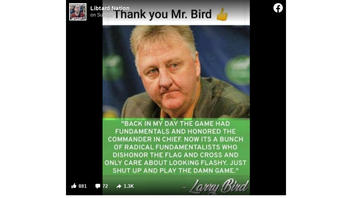 Did Larry Bird say NBA players should "just shut up and play the damn game"? No, that's not true. The famed Boston Celtic basketball player did not give a quote calling players "radical fundamentalists who dishonor the flag and cross and only care about looking flashy." The Indiana Pacers, where Bird is an adviser, said the quote was "Totally false."
The claim appeared as a post (archived here) published on the Facebook page "Libtard Nation" on August 30, 2020. It opened:
BACK IN MY DAY THE GAME HAD FUNDAMENTALS AND HONORED THE COMMANDER IN CHIEF"
This is what the post looked like on Facebook at the time of writing:
(Source: Facebook screenshot taken on Mon Aug 31 18:16:13 2020 UTC)
The full quote under a picture of Bird read:
BACK IN MY DAY THE GAME HAD FUNDAMENTALS AND HONORED THE COMMANDER IN CHIEF. NOW ITS A BUNCH OF RADICAL FUNDAMENTALISTS WHO DISHONOR THE FLAG AND CROSS AND ONLY CARE ABOUT LOOKING FLASHY. JUST SHUT UP AND PLAY THE DAMN GAME."

This quote is completely made up.
Amid the NBA boycott in the aftermath of the police shooting of Jacob Blake in Kenosha, Wisconsin, the meme with the made-up quote from Bird went viral.
There is no evidence that Bird has spoken in public recently or that the famed NBA star made these comments.
Indianapolis reporter Carlos Diaz with WHTR reported the Indiana Pacers said the Bird quote is "Totally false." Bird serves as an adviser for the team.
There's a false meme circulating on social media which features a supposed quote from Larry Bird concerning today's NBA players.
I contacted the Indiana Pacers on behalf of WTHR asking if this statement is actually from Larry Bird. The Pacers' response:
"Totally false."@WTHRcom pic.twitter.com/kSscSpc9YR

-- Carlos Diaz (@CarlosWTHR) August 30, 2020

Snopes.com debunked the fake quotes as well and noted Bird refused to go to the White House in 1984, when Ronald Reagan was president, after the Celtics won the NBA championship. Bird said about President Reagan, "If the president wants to see me, he knows where to find me," the Boston Globe reported.