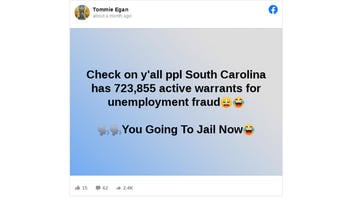 Has South Carolina (or some other state) issued 723,855 (or some other number) active warrants for unemployment fraud? No, that's not true: There is a joke-hoax trend circulating on social media since late July and the information in these posts should not be taken seriously. People with concerns about the situation in their respective state should look for information from a reputable official source.
One version of the meme appeared as a post (archived here) shared on Facebook on August 7, 2020. It read:
Check on y'all ppl South Carolina has 723,855 active warrants for unemployment fraud

You Going To Jail Now
This is what the post looked like on Facebook at the time of writing:
(Source: Facebook screenshot taken on Mon Sep 21 19:35:20 2020 UTC)
A similar post from August 17, 2020, focused on a different state. It said, "Florida has 723,855 active warrants for unemployment fraud. Are you dumb, or are you stupid?" The wording of the posts for South Carolina and Florida is very different, but the identical number of warrants, 723,855 can not be coincidental. Below is a collection of posts which were posted on Facebook between late July and mid-September 2020.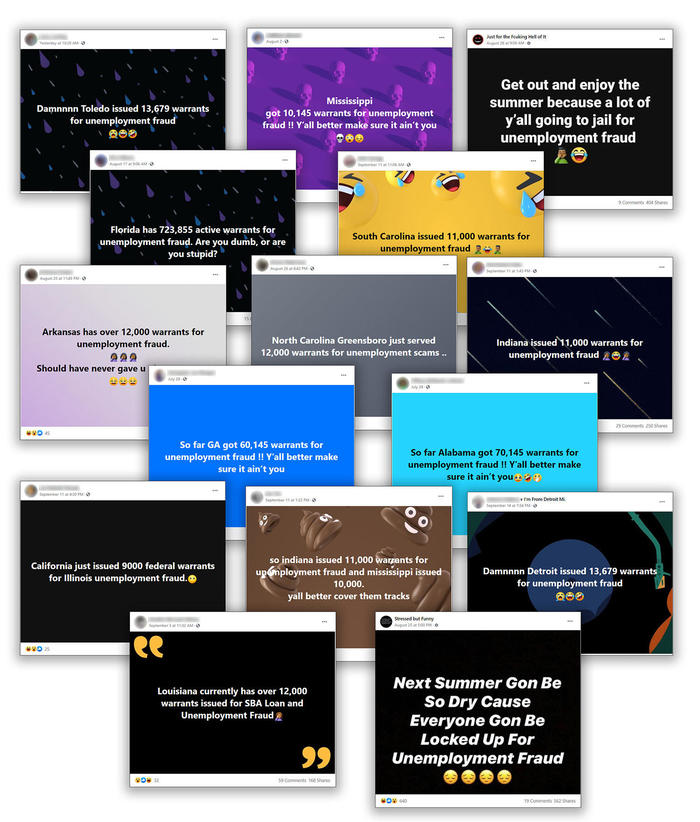 Perhaps if the joke were funnier, people might understand it's not real. Most of the posts feature a colorful background and a few emojis. One post with a photo of money and an unemployment graph originated on Twitter but has been reformatted many ways as a screenshot in Facebook posts. It is captioned, "Louisiana currently has over 12,000 warrants issued for SBA Loan and Unemployment Fraud."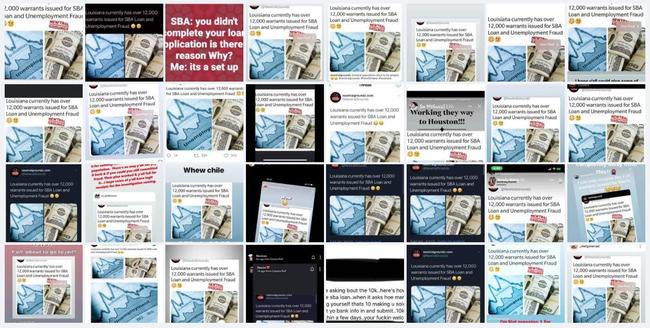 On Twitter people are copying and pasting a message that seems to be in response to the joke-news of all these warrants.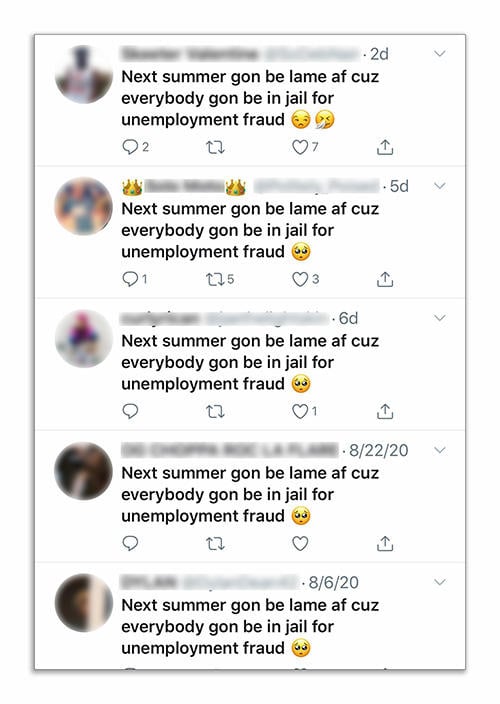 Instagram also has a variety of posts announcing large numbers of warrants and a boring summer of 2021.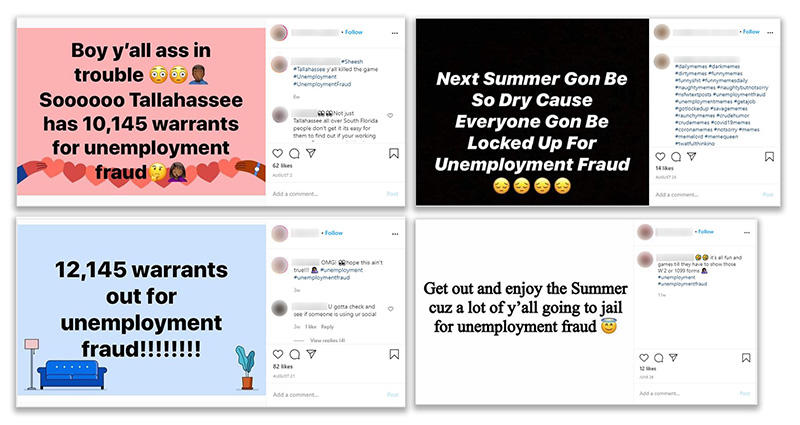 Politifact issued a fact check on July 31, 2020 titled, ""Mississippi got 10,145 warrants for unemployment fraud!!". Politifact's article was about a post that included an improbable number of warrants being issued. Along with Mississippi, the fact check mentioned other states, Georgia, and Alabama in a handful of copycat posts.
Lead Stories issued a Fact Check article on August 28, 2020 titled "Fact Check: Unemployment Scam Warrants Were NOT Served to 12,000 In Greensboro, NC". Lead Stories' fact check focused on the claim in one specific post mentioning one city. It is now clear now that this hoax trend is continuing to spread and individual fact checks can not be issued for each instance.
Some of the hoax posts name a state, some name a city or county within that state. The number of warrants which were allegedly issued is another variable. Laughing and crying emojis are another common element.
Unemployment fraud is no joke. It's a real crime and states are investigating cases of unemployment insurance fraud as well as COVID-19 relief fraud. Sometimes these crimes are committed by an individual or can be part of large fraud rings using stolen identities to collect payments in someone else's name. As individual state investigations find cases, we will see more of these reported in the news.

A late August press release from the U.S. Attorney's Office, Northern District of Iowa titled, "Three Men Charged with COVID-19 Related Unemployment Fraud," demonstrates just how serious this crime is:
If convicted each man faces up to 20 years' imprisonment, a $250,000 fine, and three years of supervised release following any imprisonment.­ All three men have appeared in federal court and were released without bond.
Chicago's local CBS station published an Aug. 27 report: "Unemployment Fraud Complaints Soar 2000% For Illinois Department Of Employment Security; Not Counting Pandemic Assistance Fraud" that explained about cases of identity theft fraud involving the identities of deceased people:
They're assessing more than 14,000 identity theft claims in five months; compared to 651 fraud reports during the same time last year.
While it is probable that large numbers of people will eventually face charges over unemployment fraud, the design of the hoax-joke posts currently circulating on social media do not represent factual reports from the responsible state agencies.
On this United States Department of Labor website is a contact list for each of the states' Unemployment Insurance Tax Information and Assistance offices.