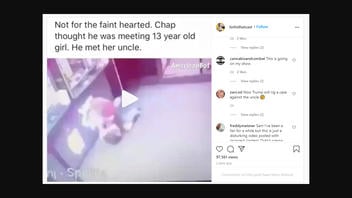 Does a viral video show a pedophile getting beaten up? No, that's not true: The video shows a real incident that happened recently in Novi Sad, Serbia. But none of the several statements authorities have released on the case as of Sept. 18, 2020 mention pedophilia and the person who posted the video provides no evidence the person being beaten up is a pedophile.
The claim appeared in a post (archived here) published by Instagram on September 15, 2020. Atop the video, the post read:
Not for the faint hearted. Chap thought he was meeting 13 year old girl. He met her uncle.
This is what users saw on social media:
There's nothing in the Instagram post to substantiate its claim.
At the time of writing, the video had been viewed close to 100,000 times. It's brutal to watch. It shows a man beating another man, who is unresponsive on the floor. The attacker hits the victim repeatedly in the head and then appears to snap both of his arms.
The video shows a real incident that took place recently in Novi Sad, Serbia. Police there have released several statements on the case, describing their efforts to identify the attacker. None mentioned a 13-year-old girl, an uncle or anything related to pedophilia. The motive of the attack remains unclear and one of the police statements, according to a Google Translate rough translation, complains that politicians and the news media have unjustly criticized police work on the case.
Istinomer, a fact-checking organization based in Serbia, contributed to this report.