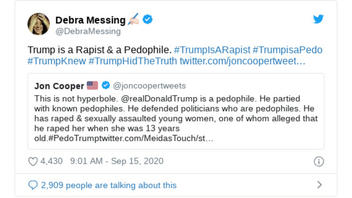 Is Donald Trump a rapist and a pedophile? There's no proof this is true: The claims are based on allegations and lawsuits that have been recanted, dismissed or remain ongoing. They remain unproven in a court of law.
The claims appeared in a tweet (archived here), posted by actress Debra Messing on Sept. 15, 2020. It read:
Trump is a Rapist & a Pedophile. #TrumpIsARapist #TrumpisaPedo #TrumpKnew #TrumpHidTheTruth https://t.co/9z89g20yKq
This is what the post looked at the time of writing:
(Source: Twitter screenshot taken on Wed Sep 16 14:37:59 2020 UTC)
Trump has faced various accusations of rape. We will look at those allegations in order of the alleged attacks. It's important to note that Trump has also been accused -- many times -- of harassment and assault. Those allegations, however, are beyond the scope of this fact-check. We are just looking at cases involving rape, including the alleged rape of a child.
1. Ivana Trump
The first instance involved Trump's first wife, Ivana. During divorce proceedings, she used the word "rape" to describe an encounter between the two of them in 1989. She later walked back that comment, saying she never intended the word to be interpreted in a "literal or criminal sense." Her initial accusation was made public in the book, Lost Tycoon: The Many Lives of Donald J. Trump, which also published her statement softening the allegation. It read:
During a deposition given by me in connection with my matrimonial case, I stated that my husband had raped me. I wish to say that on one occasion during 1989, Mr. Trump and I had marital relations in which he behaved very differently toward me than he had during our marriage. As a woman, I felt violated, as the love and tenderness, which he normally exhibited towards me, was absent. I referred to this as a 'rape,' but I do not want my words to be interpreted in a literal or criminal sense.
Many years later, when Trump was running for president, the story resurfaced. Ivana Trump stressed that she harbored no ill feelings. In a statement obtained by CNN, she said:
I have recently read some comments attributed to me from nearly 30 years ago at a time of very high tension during my divorce from Donald. The story is totally without merit. Donald and I are the best of friends and together have raised three children that we love and are very proud of. I have nothing but fondness for Donald and wish him the best of luck on his campaign. Incidentally, I think he would make an incredible president.
2. Jane Doe
A second instance alleging rape involved a woman who said that Trump attacked her at a party during the summer of 1994, when she was a child. Lead Stories has previously reported on the case, which was dropped.
The allegation was part of a 2016 lawsuit, filed by "Jane Doe" against Trump and Jeffrey Epstein, the disgraced financier and convicted sex offender who authorities say killed himself in federal prison while awaiting trial on new charges (sexual trafficking of minors). The anonymous woman in the case accused the two men of raping her when she was just 13. More details are listed in the lawsuit, which can be read here.
Trump, through his lawyer, vehemently denied the allegation. In 2016, attorney Alan Garten told POLITICO:
It is categorically untrue. It is completely frivolous. It is baseless. It is irresponsible ... I won't even discuss the merits because it gives it credibility that it doesn't deserve.
Relatively soon after it was filed, the lawsuit was voluntarily dismissed. No reason was given.
3. E. Jean Carroll
A third allegation of rape came to light last year in a New York magazine story by author E. Jean Carroll. She alleged that Trump raped her in a Bergdorf Goodman dressing room in New York City in the mid-1990s. Responding to the story, the White House denied Carroll's allegation. It told New York magazine:
This is a completely false and unrealistic story surfacing 25 years after allegedly taking place and was created simply to make the President look bad.
Carroll later sued Trump for defamation, claiming that he hurt her career and reputation by saying that she lied about the attack. Specifically, he accused her of trying to sell books and told The Hill newspaper that "she's not my type." In September 2020, in a highly unusual move, the Justice Department sought to have government lawyers take over Trump's defense from a private legal team.
All this is to say that Trump has not been found guilty of rape or a sex crime against a child in a court of law. It is correct to say that he's been accused -- just like it's correct to say that he's denied all allegations. One case, Carroll's defamation suit, remains ongoing.