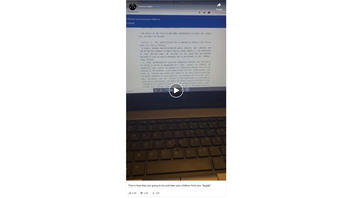 Was New York state Assembly Bill A99, sponsored by Assemblyman Nick Perry, drawn up to take advantage of the pandemic, with the purported aim of allowing state officials to remove infected residents -- namely children -- from their homes and keep them in detention facilities indefinitely? And is the pandemic "fake" and is COVID-19 made-up? No, none of that is true: There is substantial evidence to the contrary.
These claims appeared in a video posted on Facebook (archived here) where it was published by the page @Taketheredpill7 on September 26, 2020, with the caption, "This is how they are going to try and take your children from you 'legally'."
The woman in the video begins:
There are many states doing this, but since I'm in New York I'm going to show you what the state is doing and has been doing and this is how they're legally going to take your children from you. They're actually going to use this to take you out of your home too during the permanent second lockdown that's coming.
This is what the post looked like on Facebook at the time of writing:
(Source: Facebook screenshot taken on Mon Sep 28 15:50:19 2020 UTC)
The video is riddled with conspiratorial claims that are tied to baseless QAnon theories that are continually debunked.
In many ways, this video is a call to action:
If you want this stuff to stop like I said yesterday and like I've been screaming over and over you need to fully stop complying with everything. This means never wear a face mask, ever. Never socially distance, ever. Don't put your children in the public school systems. Anything the government is telling you to do right now, do not do. This is how we stop all of this.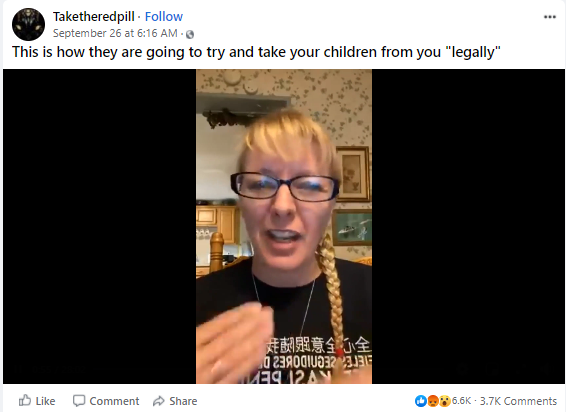 Let's examine some of the claims in the video:
Was New York Assembly Bill A99 drawn up to take advantage of the pandemic?
No. The first version of this bill was introduced in April 2015 before COVID-19 existed. Since then, it has not made it past the assembly committee. A new iteration of it was introduced during the 2017-2018 legislative session as well. It is impossible for this bill to be a response to the pandemic or in any way related to the pandemic because the novel coronavirus did not exist until almost a year after the latest version of this bill was introduced. In fact, it was created in response to a different public health cirsis: the Ebola virus.
"The bill was born from the Ebola scare, and in particular the case of Kaci Hickox, the nurse who travelled to Africa during the scare, and refused to quarantine in Maine upon her arrival," said Assemblyman Perry's communications director, Frank Shea, in an email to Lead Stories. Kaci Hickox
arrived back in New Jersey on October 24, 2014
, had no symptoms for Ebola, and tested negative twice, but state officials still attempted to quarantine her to a tent for 21 days, the incubation period for Ebola. She protested and was allowed to go back home to Maine after two days where state officials
attempted
to
restrict her movements again.
Is the pandemic 'fake' and is COVID-19 made-up?
No. Over 200,000 people have died in the U.S. from complications of COVID-19 and it has killed almost 1 million people worldwide. The misleading and inaccurate claim that coronavirus patients do not die from COVID-19, they die from other illnesses has been debunked by Lead Stories.

Would A99 allow removal of residents and children from homes and schools and keep them in detention facilities?
No. There is no mention of children, minors, or schools anywhere in A99, as the woman in the video implies.
While reading the bill, she continually makes claims that children will be taken from people despite the bill making no mention or insinuation of the removal of children. "That's where they're talking about removing and detaining you in these isolation centers and they already talked about the isolation rooms in the schools. That's where they're gonna hold you until they remove you from the school. That's what this law is," she continues after reading the part of A99 that stated:
BE DETAINED  IN  A  MANNER  THAT  IS  CONSISTENT  WITH  RECOGNIZED
ISOLATION  AND  INFECTION  CONTROL  PRINCIPLES  IN ORDER TO MINIMIZE THE
LIKELIHOOD OF TRANSMISSION OF INFECTION TO SUCH PERSON AND TO OTHERS.


As she continues reading the bill, she comes to a section that says:
THE LESS RESTRICTIVE ALTERNATIVES THAT WERE ATTEMPTED  AND  WERE
UNSUCCESSFUL  AND/OR THE LESS RESTRICTIVE ALTERNATIVES THAT WERE CONSID-
ERED AND REJECTED, AND THE REASONS SUCH ALTERNATIVES WERE REJECTED;
"Well, 'cause we're stealing you for these sex rings. This is stupid," she interjects.
Assemblyman Perry's communications direction responded to that by telling Lead Stories, "Assemblyman Perry's intent was certainly not to forcibly remove minors from the care of their parents."
The woman in the video wraps up with a disjointed monologue based in QAnon-conspiracies. "You have to start looking at reality and you have to stop complying," she said. The claims children are at risk of being stolen, roped into sex-trafficking rings, and that these realities are being hidden from the public are the drivers behind QAnon's #SaveTheChildren conspiracy. The #SaveTheChildren conspiracy claims that there is a ring of prominent Democratic politicians and celebrities trafficking and molesting children under the public's nose and followers of QAnon have unearthed these secrets.
There remains no evidence to support those claims.