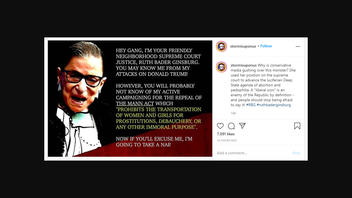 Did Ruth Bader Ginsburg wage an "active campaign" to repeal the Mann Act and to lower the age of consent for sex? No, that's not true: The claims that the late justice tried to get the Mann Act repealed -- a 1910 law that made it a federal crime to transport women across state lines for immoral purposes -- and to lower the age of consent for sex is based on a handbook advocating "gender neutral" laws Ginsburg co-authored in 1977. Sex Bias in the U.S. Code criticized the Mann Act for making consensual sex between unmarried adults a federal crime and for wording that was bias against women. Instead of demanding a repeal of the act, it suggested changes that were made by Congress in 1987. The handbook did not call for a lower age of consent. It did recommend the federal code be made gender neutral so it applied equally to boys and girls.
The claims appeared in a series of memes, including in a post (archived here) shared on Instagram by QAnon promoter "Joe M" on September 20, 2020. The text introduction read "Why is conservative media gushing over this monster? She used her position on the supreme court to advance the luciferian Deep State agenda of abortion and pedophilia. A 'liberal icon' is an enemy of the Republic by definition - and people should stop being afraid to say it! #RBG #ruthbaderginsburg." The meme read:
HEY GANG, I'M YOUR FRIENDLY NEIGHBORHOOD SUPREME COURT JUSTICE, RUTH BADER GINSBURG. YOU MAY KNOW ME FROM MY ATTACKS ON DONALD TRUMP.

HOWEVER, YOU WILL PROBABLY NOT KNOW OF MY ACTIVE CAMPAIGNING FOR THE REPEAL OF THE MANN ACT WHICH "PROHIBITS THE TRANSPORTATION OF WOMEN AND GIRLS FOR PROSTITUTION, DEBAUCHERY, OR ANY OTHER IMMORAL PURPOSE".

NOW IF YOU'LL EXCUSE ME, I'M GOING TO TAKE A NAP.
This is how the post appeared online:
This is a screenshot taken on the day it was posted: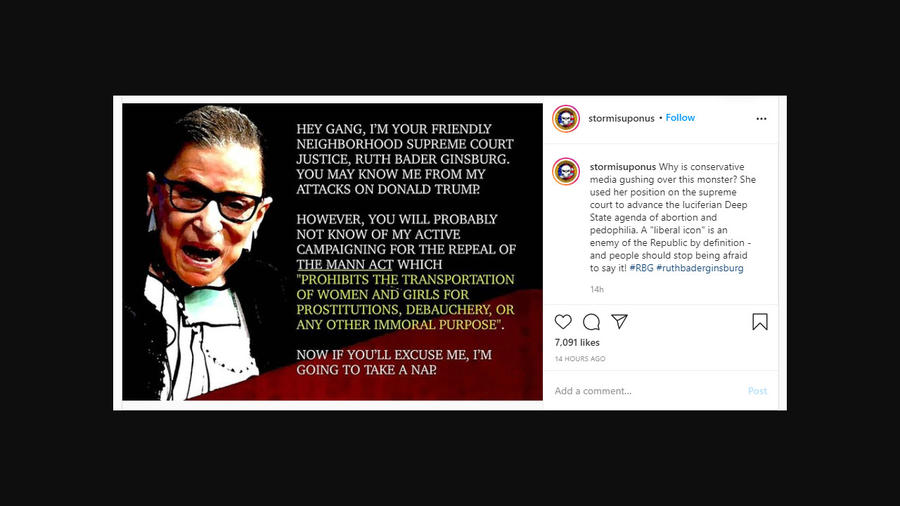 The meme's claim that Ginsburg wages an "active campaign" to repeal the Mann Act is betrayed by it's description of the act as prohibiting "the transportation of women and girls for prostitution, debauchery, or any immoral purpose." That wording was included in the original version known as the White Slave Traffic Act of 1910. It was revised in 1978 and 1986, changing the gender references as Ginsburg suggested fo it applied equally to males and females, and to replace the phrase "any other immoral purpose" with "any sexual activity for which any person can be charged with a criminal offense."
Until those changes, allowed for the federal prosecution of unmarried couples who lived together -- especially interracial couples -- and engaged in consensual sex, which a jury might interpret at the time as immoral. One of the more infamous prosecutions using the "immoral purposes" provision put rock-and-roll pioneer Chuck Berry in prison for two years for taking a 14-year-old girl into Missouri in 1959.
This is another meme attacking Ginsburg for her contributions to the 1977 handbook:
This is a screenshot of the meme post: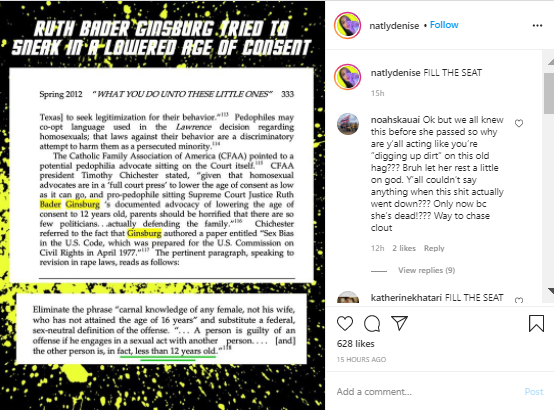 The meme's claim that "RUTH BADER GINSBURG TRIED TO SNEAK IN A LOWERED AGE OF CONSENT" is also based on a passage from the Sex Bias in the U.S. Code handbook. It is unclear how a handbook published in 1977 by a lawyer -- she was not yet a judge -- is an attempt to "sneak" anything, especially considering the document did not advocate a lower age of consent. The handbook only referenced a legislative proposal with that language, suggesting an age of consent law should treat young males and females the same.
QAnon's demonization of Ginsburg, who is Jewish, as a "monster" with a "luciferian Deep State agenda" of pedophilia is a reflection of the anti-Semitic portrayal of Jews in The Protocols of the Learned Elders of Zion, a late 19th century document that historians say had an impact on Adolph Hitler.