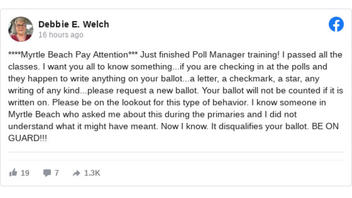 Is a Facebook page with the name ViniepCourttv that is running a $5,000 give-away contest the real page for COURT TV anchor Vinnie Politan? No, that's not true. A new account claiming to be the former prosecutor is a fake and is trying to scam people out of money on the social media site. Politan released a video on his own Facebook page calling the page asking people to enter a contest to win $5000 "100 percent fraudulent."
The contest appeared a post (archived here) where it was published by the account "ViniepCourttv" on September 29, 2020. It opened:
★

WELCOME WINNER $5,000

★

𝗖𝗢𝗡𝗚𝗥𝗔𝗧𝗨𝗟𝗔𝗧𝗜𝗢𝗡𝗦

𝘁𝗼 𝗣𝗲𝗼𝗽𝗹𝗲 𝗶 𝗰𝗼𝗺𝗺𝗲𝗻𝘁𝗲𝗱 𝘄𝗶𝘁𝗵 𝘁𝗵𝗲 𝗪𝗜𝗡𝗡𝗘𝗥 𝘄𝗼𝗿𝗱!
This is what the post looked like on Facebook at the time of writing:
(Source: Facebook screenshot taken on Wed Oct 7 23:26:39 2020 UTC)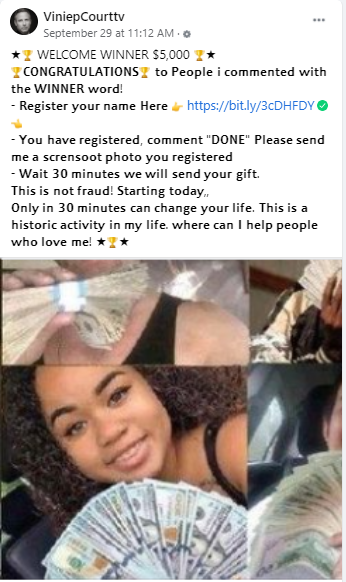 The fake page was created on September 29, 2020 using photographs of Politan, the Lead Anchor for Court TV Network and running a scam asking people to register on a link claiming they could win $5,000.
The imposter account only has four posts, three of which are videos Politan posted on his own page. The fourth one is the contest scam.
Politan released a video on his real Facebook page warning that the new account was a fake and that he would never offer money via a contest to his followers.
This is a scam. Someone has created a page that looks like me, but it's not me. I'm not running any contest. This is 100% fraudulent. Absolutely fraudulent. It is a scam. I would never run a stupid contest like that. So please delete it. Report it to Facebook. The bottom line is - I am not running this. I keep trying to respond to everyone. It is not legit. It is 1000 percent someone trying to take advantage of all the great people that follow this page. We have such a large reach they know they can reach a large audience by siphoning in on our page.

I'm not trying to give away money. I don't have any money to give away, I'm trying to make money. It is a 1000 percent a scam. I think what is happening is when people sign up I think you're getting billed once a month. Do not sign up. Vinnie says 'It is a scam.' It is not real. It is not me. I am not running it. I have told Facebook I have tried to block this site from my page.

Do not give them a dime. Do not sign up for anything. Do not even click on it. Ignore them. Deleted them. Bad mouth them. Let everyone know that they are scammers. That they are 1000 percent scammers.