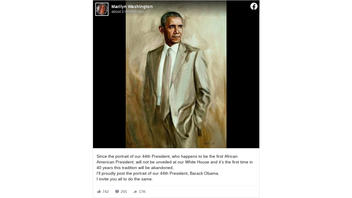 Is a portrait of former President Barack Obama wearing his infamous tan suit his official White House portrait? No, that's not true. The 44th president's official portrait has yet to be unveiled by the Trump administration and might never be. The portrait of Obama wearing that suit -- for which he was taken to task by conservative media for wearing a light suit while performing official duties -- is featured wearing the suit in a painting by a Dutch artist.
Social media posts have implied that the tan suit portrait was official, including a post (archived here) published to Facebook on July 6, 2020. The text of the post read:
Since the portrait of our 44th President, who happens to be the first African American President, will not be unveiled at our White House and it's the first time in 40 years this tradition will be abandoned,

I'll proudly post the portrait of our 44th President, Barack Obama.

I invite you all to do the same.
This is what the post looked like on Facebook at the time of writing:
(Source: Facebook screenshot taken on Wed Oct 14 14:58:34 2020 UTC)
Here is a screenshot of the actual painting on the page of Edwin van den Dikkenberg:
Translated, the text under the portrait reads:
This portrait recently received a lot of media attention after a Twitter message. See also In the media This portrait can be seen at Galerie Artfusion. Limited edition Giclees of this portrait are available."
Another link on the page takes you to a site listing all the media sources that have reported on the portrait being mistaken for Obama's official portrait. It reads, according to Google translate:
Obama portrait goes viral

His portrait of Barack Obama is going viral as being the official portrait of the former president of the United States. If it turns out that this is not the official White House portrait, but made by one Edwin van den Dikkenenberg, national and foreign media will soon be on the doorstep."
The controversy over the tan suit, dubbed Tan Suit Gate by some, dates to August 28, 2014, when Obama showed up at a news conference wearing it. People in the media chastised the Commander-in-Chief for wearing the suit, suggesting that he wasn't taking his responsibilities seriously enough.
In May, NBC and others ran reports that the official unveiling of Obama's portrait by Trump -- a tradition that dates back decades -- was likely not to happen. Trump reportedly refuses to do so, and Obama -- now actively campaigning for his former vice president, Joe Biden, against Trump -- has no interest in participating with Trump, according to NBC.