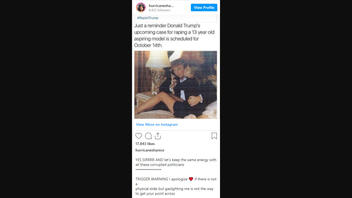 Is a lawsuit that accused Donald Trump of raping a 13-year-old aspiring model "upcoming"? No, that's not true: The suit, which was filed back in 2016, was voluntarily dismissed that same year. There are no scheduled dates related to the case.
The claim appeared in an Instagram post (archived here) on October 12, 2020. The post included a short message and a meme, which showed an old picture of Trump, holding a telephone to his ear, seated on what appears to be a bed with a girl. The message read, in part: "YES SIRRRR AND let's keep the same energy with all these corrupted politicians." The meme read:
Just a reminder Donald Trump's upcoming case for raping a 13 year old aspiring model is scheduled for October 14th.
This is what users saw on social media at the time of writing:
Although it does not specify the case it's talking about, the post is clearly a reference to a lawsuit that was filed by a woman who said that Trump raped her when she was 13 and an aspiring model in New York City.
Lead Stories has reported on that case before. See here, here and here for our latest coverage.
The lawsuit was filed in 2016. It was dropped the same year -- no reason was given for the voluntary dismissal -- and there are no pending court dates related to the case.
In the suit, "Jane Doe" accused both Trump and Jeffrey Epstein, the disgraced financier and convicted sex offender, of raping her at a party in 1994. More details on her case can be found here.
Trump, through his lawyer, vehemently denied the allegation. In 2016, attorney Alan Garten told POLITICO:
It is categorically untrue. It is completely frivolous. It is baseless. It is irresponsible ... I won't even discuss the merits because it gives it credibility that it doesn't deserve."
Finally, it's important to note that the girl in the post is not "Jane Doe," which the meme implies. The photograph appears to show Trump with one of his daughters, Ivanka Trump.