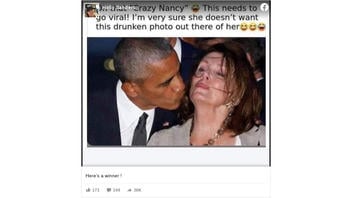 Does a photo showing President Obama kissing Rep. Nancy Pelosi's cheek show a drunken Pelosi and is it a photo she doesn't want "out there"? No, that's not true: The photo shows Obama and Pelosi after they deplaned from Air Force One on the tarmac at Joint Base Andrews in Washington after a flight from Israel on September 30, 2016. There was nothing scandalous about the image taken by Reuters photographer Kevin Lemarque at the public event.
The claim appeared as a meme in a post (archived here) shared on Facebook on October 10, 2020, under the title "Here's a winner!" The meme text read:
Oh that "Crazy Nancy" This needs to go viral! I'm very sure she doesn't want this drunken photo out there of her
This is what the post looked like on Facebook at the time of writing:
(Source: Facebook screenshot taken on Sun Oct 11 22:33:24 2020 UTC)
This is a screenshot of the post:
This is another version of the original photo showing more context: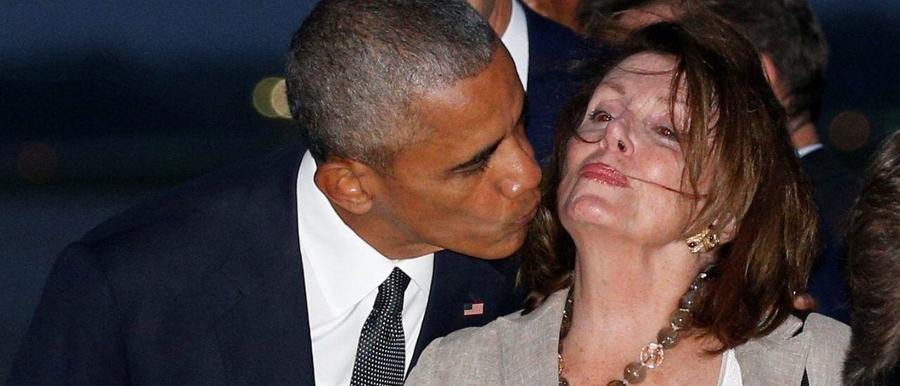 The photo that supposedly captured "Crazy Nancy" partying actually shows Obama and Pelosi amid dozens of other American political leaders who were in the U.S. delegation attending the funeral of former Israeli President Shimon Peres. The American delegation, led by Obama, included 19 members of congress. Pelosi was not speaker at the time, since Republicans controlled the house.
The photo is not secret or suppressed. You can purchase a license to publish it at the page. You can see other photos of Obama and Pelosi -- including one of them walking off the plane -- but since Getty Images charges $499 for websites to embed it, just click here to see it for free.
Efforts to frame Nancy Pelosi as a slurring drunk have become infamous on social media, despite the common knowledge that she is not a drinker of alcohol.
Lead Stories previously debunked two notorious attempts to manipulate the audio of videos to make Pelosi sound intoxicated. See our articles titled Fake News: Video Does NOT Show House Speaker Pelosi Drunk As A Skunk and Fact Check: Video Does NOT Show Nancy Pelosi 'Blowed Out Of Her Mind,' Clip Was Digitally Slowed Down To Make Speaker Appear Drunk.
Another trend has been for satirical content making the claim that Pelosi has a drinking problem. While the articles were labeled as satire, many people believed they were real. See our debunks:
Fact Check: Nancy Pelosi Was NOT Removed From The House Floor For Being Drunk
Fake News: Nancy Pelosi NOT Asked To Leave Children's Benefit After Drunken Outburst
Fake News: Pelosi's Office Did NOT Spend More on Alcohol Last Year Than Food
Fake News: Nancy Pelosi NOT Escorted Out of White House, Did NOT Show Up 'Too Drunk to Speak'
Fake News: Nancy Pelosi Did NOT Spend $106K Of Your Money To Get Drunk With Hollywood Elitists