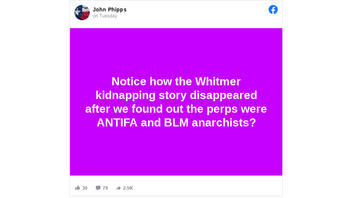 Did the story of the alleged plot to kidnap Michigan Gov. Gretchen Whitmer disappear after "we found out the perps were antifa and BLM anarchists"? No, that's not true. One, the story has hardly disappeared. News outlets are continuing to cover it. And, two, authorities have never linked the men accused in the plot to either antifa or the Black Lives Matter movement. Michigan's attorney general has said that "white supremacy groups and militia groups" were behind the plot.
The claim appeared in a Facebook post (archived here) on October 13, 2020. The post read:
Notice how the Whitmer kidnapping story disappeared after we found out the perps were ANTIFA and BLM anarchists?
This is what the post looked like at the time of writing:
(Source: Facebook screenshot taken on Thu Oct 15 15:42:24 2020 UTC)
Earlier this month, authorities announced that they'd disrupted a plot to kidnap the Democratic governor of Michigan ahead of the 2020 presidential election. Six men faced federal charges; seven other men faced state charges. That number later increased to eight.
Soon after the arrests, news organizations dug into the backgrounds of the alleged plotters. Lead Stories found two reports on the accused men -- one each on Brandon Caserta and Daniel Harris -- that appear to offer some support for the post's claims.
First, NBC News reported that Caserta had recorded a video in front of a Michigan map and an anarchist flag. Second, The Washington Post said that Harris attended a Black Lives Matter protest back in June. Harris was quoted in the Oakland County Times as saying:
We went to the BLM protest yesterday in Lake Orion to show our support that everyone's voice should be heard, no matter the color on your skin. Protesting is important to me because it gives us all a voice to be heard."
Still, it's important to note that neither the federal criminal complaint nor the affidavits in support of the state charges mention antifa or "BLM anarchists." Rather, they repeatedly reference a "militia group." Specifically, the affidavits talk about "an anti-government militia group within Michigan called the Wolverine Watchmen."
Michigan Attorney General Dana Nessel discussed that group and others during an interview on the alleged plot on NPR's "All Things Considered." She said:
There's actually multiple groups involved. The people that we charged are affiliated with this Wolverine Watchmen group. And you can probably tell by the name, Wolverine, that they are a Michigan-based group. But there are multiple white supremacy groups and militia groups that have been acting in accordance with one another. And, you know, ultimately their mission is what they call the "boogaloo," right? It's an uprising or a civil war."
She continued:
It's something that we should be very concerned about because -- again -- it's not just a Michigan problem. This is now an American problem."
Finally, as evidenced by the stories cited above, both local and national news organizations are continuing to cover the purported kidnapping plot, as can be seen here, here and here. It has not disappeared from the headlines.