STORY UPDATED: check for updates below.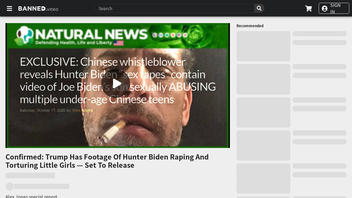 Is it confirmed that The White House has video footage -- and is set to release it -- of Democratic Presidential nominee Joe Biden's son Hunter raping and torturing minor girls? No, that's not true: conspiracy theorist Alex Jones' claim is not supported by independent named sources, authenticated documents nor any other form of evidence that is the minimum required to accuse someone of felony crimes. The claim resembles a similar claim being made by President Trump's personal lawyer, former New York Mayor Rudy Giuliani, who has been distributing what he says are the contents of Hunter Biden's laptop. Giuliani, who claims to have had the laptop for a year, did not mention the sex crimes until mid-October, 2020, after it was reported a New York Post reporter refused to put his byline on a story that claims emails from the hard-drive reveal corrupt practices by Biden and his son.
The claim originates in a video (archived here) posted October 18, 2020 on Jones' "InfoWars" website, titled "Alex Jones special report."
It opened:
Confirmed: Trump Has Footage Of Hunter Biden Raping And Torturing Little Girls -- Set To Release
Users on social media only saw this title, description and thumbnail:
Alex Jones special report
Among Jones' statements in the video he posted on Saturday, October 17:
We have total proof from over 10 sources triangulated

The FBI Director, Wray, over six months ago received the laptop that Giuliani has. He received the information, that's confirmed, that shows thousands of photos of what appear to be underage girls and these are videos with Hunter Biden in them in China clearly being compromised with what appear to be pre-pubescent girls...

We have the documents. We have the New York Post.

Trump is finally laying out what it really is.
Other than printouts of articles by the New York Post and Fox News, Jones does not present any documentary evidence the tape will be released, nor does he provide even limited identification of his sources.
During the 30-minute video, while talking about the purported imminent White House release of a compromising video of the son of Democratic presidential nominee Joe Biden, Jones only refers to "my sources" and does not even show partially obscured images from the videos, which could be done digitally or with scraps of paper, so as to show Biden's face, without violating rules or laws against broadcasting pornography. Jones goes on to say Biden is an asset of communist China, that news of the dangers of vaccines is being suppressed and that viewers should shop his store for nutritional supplements, t-shirts and other merchandise.
Lead Stories reached out to the spokesperson for Jones' organization, InfoWars, to seek detailed confirmation of the claim beyond Jones' general statements in the video that he had talked to his sources to confirm the White House was about to release the tape. Lead Stories also asked Jones' spokesperson to clarify if Jones was telling the truth when he said it. Lead Stories will update this report, as appropriate, when Jones' organization responds.
Jones is a serial fabricator of conspiracies in which shadowy elites get away with elaborate plots against democracy, against the survival of the United States and against American economic interests.
Lead Stories debunked Jones' claim that Biden had been fed the questions for the first debate with President Trump. Jones never published a correction after the debate, when it was apparent the claim was false.
During a pre-trial hearing in 2017, Jones' attorney called him a "performance artist" who cannot be taken at his word because he plays a character for viewers of his InfoWars show. Jones' attorney made the remarks during a hearing in Jones' custody battle with his ex-wife, during which she argued that he is an unstable person.
During the defamation lawsuit brought against Jones by parents of murdered Sandy Hook Elementary students, Jones testified that he falsely accused the parents of lying because he suffers from "a psychosis." Jones earned high ratings for his show when he said parents of the 20 children murdered in their school on December 14, 2012 made the whole thing up as part of a government plot to seize Americans' guns. Jones has also been sued for identifying the wrong man as the shooter.
Lead Stories reached out directly via email to the White House press office to authenticate Jones' claim that the White House would soon be putting child pornography online. This report will be updated, as appropriate, when the White House press office responds.
Lead Stories reached out to the FBI to authenticate Jones' claim the FBI has had the material for several months. This report will be updated, as appropriate, when the White House press office responds.
Nothing White House Press Secretary Kayleigh McEnany tweeted or re-tweeted October 16-20, 2020 referred to the tape release. Nothing Deputy Press Secretary Judson Deere tweeted or re-tweeted October 16-20, 2020 presaged release of Hunter Biden videos.
The Donald J. Trump Twitter account, where the President is in the habit of advance-hyping major announcements, also included no tweets promising the imminent release of videotapes of Hunter Biden.
Giuliani on Monday, October 19, 2020, delivered material to the New Castle County (Delaware) police department, Mat Marshall, Communications Director for the Delaware Department of Justice said in an October 21, 2020 phone conversation with Lead Stories. Marshall said it was rapidly handed off to the FBI:
Giuliani handed off a copy of a hard drive which he claims to be from Hunter Biden's laptop. They (New Castle County) call us. After a discussion with us, it's handed off to the FBI. At no point did we have physical custody. There's no ongoing investigation of Hunter Biden. There's no ongoing involvement.
Here is a tweet from Newsmax containing video of Giuliani claiming he has compromising photos of Biden"
.@RudyGiuliani tells Newsmax that Hunter Biden had numerous pictures of "underage girls" on the laptop that reportedly belonged to him and that he has turned them over to the Delaware State Police.pic.twitter.com/pu6rNYTlV9

-- Daily Caller (@DailyCaller) October 21, 2020
2020-10-21T18:01:29Z

2020-10-21T18:01:29Z

Updated to add an interview with spokesman for the Delaware Attorney General and to correct a typo.

2020-10-21T14:43:05Z

2020-10-21T14:43:05Z

Updated to clarify Lead Stories contact with White House press office and clean up an a-grammatical sentence.