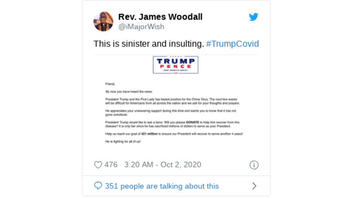 Did President Trump's campaign send out a mailer asking for the public's help in raising $421 million soon after the president tested positive for COVID-19, to care for his recovery? No, that is not true. The supposed mailer, which is making the rounds on social media, is a fabrication. The $421 million figure appears a play on the amount of debt that Trump reportedly owes.
The claim can be found in a post (archived here) published on Twitter on October 2, 2020, with the words, "This is sinister and insulting. #TrumpCovid" above the fake letter, which reads:
Friend,

By now you have heard the news.

President Trump and the First Lady has tested positive for the China Virus. THe next few weeks will be difficult for Americans from all across the nation and we ask for your thoughts and prayers.

He appreciates your unwavering support during this time and wants you to know that it has not gone unnoticed.

President Trump would like to ask a favor. Will you please DONATE to help him recover from this disease? It is only fair since he has sacrificed millions of dollars to serve as your President.

Help us reach our goal of 421 million to ensure our President will recover to serve another 4 years!

He is fighting for all of us!
This is what the post looked like on Twitter at the time of writing:
(Source: Twitter screenshot taken on Fri Oct 2 16:43:13 2020 UTC)
The fact is that Trump, as president, receives free medical care -- making it unnecessary to raise money to cover such costs.
The letter, with its glaring grammatical errors, is unsigned but appears under the Trump-Pence 2020 campaign logo to "Keep America Great."
Here is a larger copy of the letter: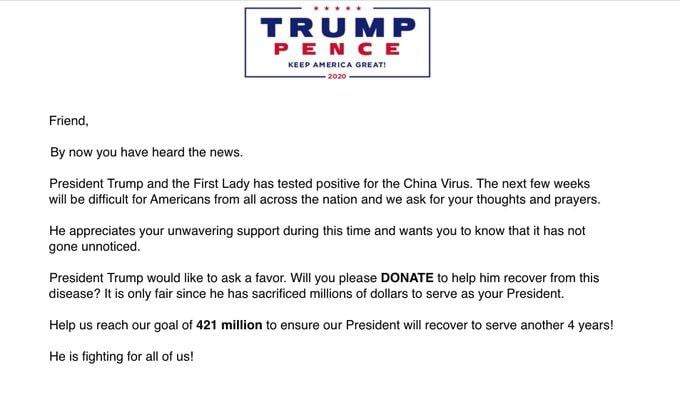 Lead Stories is awaiting a response from the Trump campaign and the Republican National Committee. In the meantime, here is a tweet from CNN fact-checker Daniel Dale denying the mailer:
This image going around is a FAKE. To date, the Trump campaign has not sent out any fundraising email mentioning his diagnosis. pic.twitter.com/yX6nIIGQX5

-- Daniel Dale (@ddale8) October 2, 2020
It is safe to say that nothing about the mailer is real. Even the poster, Georgia NAACP branch President James Woodall, posted this about eight hours after his orginal tweet:
This is not a legitimate email coming from the Trump campaign. Want to clarify this instead of simply deleting it.

-- Rev. James Woodall (@iMajorWish) October 2, 2020
In its check of the fake mailer, PolitiFact wrote:
The Trump campaign confirmed to us that the email isn't real. So did the Republican National Committee.

"That is a fake," RNC spokeswoman Mandi Merritt told PolitiFact in an email.
Note the time between Trump's announcement and the original Woodall tweet -- less than three hours.
Tonight, @FLOTUS and I tested positive for COVID-19. We will begin our quarantine and recovery process immediately. We will get through this TOGETHER!

-- Donald J. Trump (@realDonaldTrump) October 2, 2020
Trump, who tested positive for COVID-19 late on October 1-early October 2, 2020, reportedly owes $421 million in debt, according to tax records going back decades that were analyzed by The New York Times. The below tweet is from The Associated Press coverage of the Times analysis:
The Times reports that tax records show President Trump is carrying a total of $421 million in loans and debt that are primarily due within four years. Most of that debt comes from the Doral golf resort in Florida and Trump's Washington hotel. https://t.co/xsvz8JP2jM

-- The Associated Press (@AP) September 28, 2020