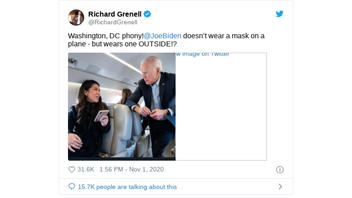 Does a photo circulating on Twitter prove Joe Biden wears a mask outdoors but not on a plane amid the COVID-19 outbreak? No, that's not true. Richard Grenell, the former US Ambassador to Germany under President Trump, tweeted two photos of Joe Biden - one outdoors wearing a mask and one on an airplane, maskless. The picture of Biden on the plane not wearing a mask was taken in October, 2019, before the COVID-19 outbreak in the United States, and published in 2020 by Vogue.com.
The photo was inserted in a tweet (archived here) where it was published on the @RichardGrenell account November 1, 2020 under the title "Washington, DC Phony". It opened:
@Joe Biden doesn't wear a mask on a plane - but wears one OUTSIDE!?
This is what the post looked like on Twitter at the time of writing:
(Source: Twitter screenshot taken on Mon Nov 2 06:06:17 2020 UTC)
Grenell, a senior advisor to the Republican National Committee, tweeted the two pictures of Biden, calling him a "phony" for not wearing a mask on a plane. Grenell was, from February through May of 2020, acting director of National Intelligence.
The photograph is from a Vogue magazine article titled, "On the Campaign Trail with Remi Yamamoto, Joe Biden's Traveling National Press Secretary," that was published on October 30, 2020. The caption on the photo clearly notes it was taken in November 2019.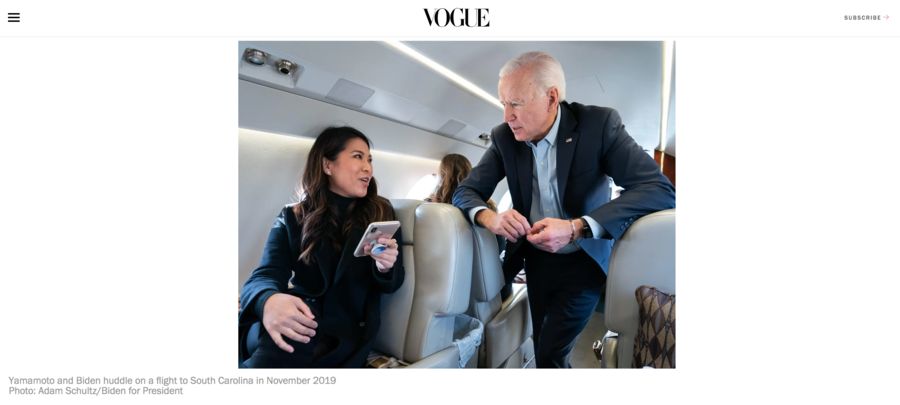 Former Vice President Biden is speaking with his Traveling National Press Secretary Remi Yamamoto in the photograph.
The first cases of COVID-19 were reported in January 2020 in the United States. The Centers for Disease Control began recommending that Americans wear masks to protect themselves from the spread of coronavirus in early 2020, not in 2019 when the photo was taken.