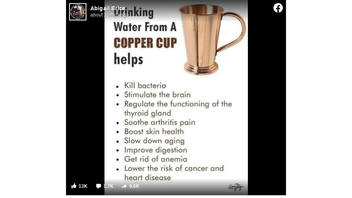 Does drinking water from a copper cup provide such health benefits as regulating the thyroid gland, slowing aging, getting rid of anemia and lowering risks of heart disease and cancer? No, that is not true. Not only can high doses of copper cause a person harm, such as copper toxicity and brain disorders, many of these claims lack any scientific basis. Copper can leach into water from a cup, and maintaining normal levels of copper is good for the body. Still, there is nothing proving that drinking from a copper cup -- often soldered using lead and other toxic metals -- dramatically increases health or even delivers a consistent dose of copper.
The claims appeared in a meme on Facebook (archived here) published April 20, 2019. The meme, which gained thousands of reactions and shares, reads:
Drinking water from a copper cup helps kill bacteria, stimulate the brain, regulate the functioning of the thyroid gland, soothe arthritis pain, boost skin health, slow down aging, improve digestion, get rid of anemia, lower the risk of cancer and heart disease.
This is what the post looked like on Facebook at the time of writing:
(Source: Facebook screenshot taken on Fri Oct 30 15:51:52 2020 UTC)
The post, which has been around for years and has been debunked here, here and here, gives no sourcing for its claims. Asked about the supposed benefits of drinking water from a copper cup, Terry Gordon, a professor of Environmental Medicine at New York University Langone Health, said that aside from being able to kill bacteria and being "an essential element associated with some proteins in our bodies, these claims are almost completely unfounded." Taken as a whole, he added:
As for the claims, almost all have no strong factual basis (i.e. science)."
While copper itself is essential to the functioning of a healthy body, too much can cause ill health effects, including brain disorders or damage. According to this fact sheet from the Centers for Disease Control and Prevention's Agency for Toxic Substances and Disease Registry:
Everyone must absorb small amounts of copper every day because copper is essential for good health. High levels of copper can be harmful. Breathing high levels of copper can cause irritation of your nose and throat. Ingesting high levels of copper can cause nausea, vomiting, and diarrhea. Very-high doses of copper can cause damage to your liver and kidneys, and can even cause death."
Here's a review of the claims from the meme, taken in order.
"Kill bacteria"
Gordon said this one appears correct, writing in an email that "copper can be microbiocidal (kill bacteria)...copper can kill bugs."
Healthline.com focused on the subject in September 2020, writing:
Both old and recent evidence suggests that copper may be used as a water purification or sterilization system, as ancient Ayurveda techniques recommended (3, 4).

This may be especially beneficial for the estimated 1 billion people who don't have access to safe drinking water (5).

Contaminated water can contain considerable amounts of bacteria, including Vibrio cholerae, Shigella flexneri, Escherichia coli, and Salmonella typhimurium, that can cause diarrhea -- one of the leading causes of death in developing countries (4, 5).

Fortunately, simply storing water in a copper pot or vessel may kill these harmful bacteria."
"Stimulate the brain"
According to Science Daily, this is true and not true -- depending on the amount of exposure to copper:
In recent years it has been established that copper plays an essential role in the health of the human brain. Improper copper oxidation has been linked to several neurological disorders including Alzheimer's, Parkinson's, Menkes' and Wilson's. Copper has also been identified as a critical ingredient in the enzymes that activate the brain's neurotransmitters in response to stimuli. Now a new study by researchers with the U.S. Department of Energy (DOE)'s Lawrence Berkeley National Laboratory (Berkeley Lab) has shown that proper copper levels are also essential to the health of the brain at rest."
Similar findings were reported in an article from Berkeley Lab.
"Regulate the functioning of the thyroid gland"
There is some truth to this claim, though more study is needed, according to an article in BioMedical, the Journal of Scientific & Technical Research:
...hyperthyroid patients had significantly decreased levels of zinc and copper, which indicates abnormal metabolism of zinc and copper in hypothyroidism and may exaggerate the complications of hypothyroidism. Hence, diet rich in trace elements, viz. zinc and copper should be supplied to patients with hypothyroidism in order to maintain normal thyroid hormone function. However, studies with a large number of hypothyroid patients are needed in order to get more precise results."
"Soothe arthritis pain
While only a small amount of copper is leached by water through a cup, repeated use can cause problems. But as for copper in general, there is no evidence that it helps with arthritis pain, according to the Arthritis Foundation.
"Boost skin health"
This claim is partly true, according to a paper on the site of the U.S. National Library of Medicine National Institutes of Health:
Copper is an essential mineral that plays a key role in many physiological and metabolic processes, including angiogenesis, skin generation and expression and stabilization of extracellular skin proteins. Copper has also potent wide spectrum biocidal properties. The combination of these two distinct properties of copper makes copper a very attractive active material for the improvement of skin well-being."
"Slow down aging"
There is no scientific evidence to support this claim, according to Gordon.
"Improve digestion"

While copper is part of our bodily functions and a deficiency of copper can create health issues, too much copper can create toxicity, which is associated with diarrhea and other harmful effects, including brain damage and even death.
"Lower the risk of cancer and heart disease" and "Get rid of anemia"
Normal copper intake is healthy, including for the heart, and warding off anemia, but too much can cause far more health problems than copper deficiency.
No peer-reviewed research backs up the claims in the post that this is a certain cure for the listed health concerns.