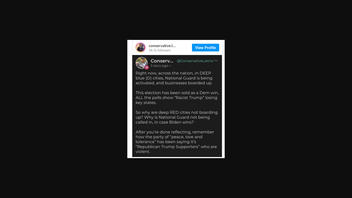 Is the National Guard only being activated in "blue (D) cities" to prepare for possible violence during the 2020 presidential election? No, that's not true: Activations have been reported in both blue and red states, for a total of some 3,600 troops in 16 states, according to Military Times.
The claim appeared in an Instagram post (archived here), published by "conservative.latino" on November 2, 2020. It read:
Right now, across the nation, in DEEP blue (D) cities, National Guard is being activated, and businesses boarded up. This election has been sold as a Dem win, ALL the polls show 'Racist Trump' losing key states. So why are deep RED cities not boarded up? Why is National Guard not being called in, in case Biden wins? After you're done reflecting, remember how the party of 'peace, love and tolerance' has been saying it's 'Republican Trump supporters' who are violent.
This is what users on social media saw at the time of writing:
Governors activate The National Guard in their states. The president may also activate the Guard.
Lead Stories reached out to the National Guard Bureau, the Guard's official website, to ask about recent movements. A spokesman, Wayne Hall, responded that he did not know exactly how many troops have been called up and where, as those decisions are made state-by-state. However, he confirmed that the National Guard is supporting election work in several states. Hall wrote:
The National Guard [NG] has a long-standing tradition of providing electoral support to state and local authorities. We have seen an increase this year, due to the loss of volunteers from COVID-19 concerns.

Election security is a national priority and Governors have authority to activate their NG in State Active Duty to provide timely, safe, responsible, and proactive defensive cyber security as well as physical security or other types of assistance, to include polling station assistance, in accordance with State law.
Among the states that have reported activations are states with Republican governors.
For example, Gov. Greg Abbott of Texas was expected to dispatch up to 1,000 Guard troops to major cities in case of post-election unrest, according to the San Antonio Express-News, which was first to report the announcement. In Florida, Gov. Ron DeSantis tapped the Guard to assist at several locations across the state on Election Day. Similarly, Tennessee and Alabama -- both states with Republican governors -- have enlisted troops to help with election-related activities.
In total, more than 3,600 troops are active in 16 states, according to Military Times. Its breakdown of what's happening in each state can be seen here. Note that the list is not limited to blue states. Both blue and red states have called on Guard forces.