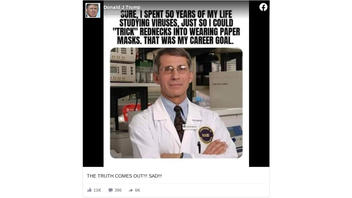 Did President Trump post a meme about Dr. Anthony Fauci on Facebook? No, that's not true: the meme was posted by a parody account but garnered tens of thousands likes, shares and comments, many from people who didn't realize it did not come from the President's own Facebook account.
The meme appeared in a post (archived here) where it was published on November 2, 2020 by "Donald J Trump", an account using the same name and profile picture as President Trump's real account but without the blue verification checkmark. It was captioned "THE TRUTH COMES OUT!!! SAD!!!" and showed an image of Dr. Fauci with the fake quote:
Sure, I spent 50 years of my life studying viruses, just so I could "trick" rednecks into wearing paper masks. That was my career goal.
This is what the post looked like on Facebook at the time of writing:
(Source: Facebook screenshot taken on Tue Nov 3 10:15:12 2020 UTC)
However the Facebook account that posted the image (https://www.facebook.com/thetotallyrealdonaldtrump/, archived here) bills itself like this in the "About" tab:
Deporter-In-Chief, Billionaire, Entrepreneur, totally not racist, I swear. Let's make America so great that you get tired of being great.
Satire
But that wasn't obvious to several people in the comments, for example "Robert Schwartz" noted:
He committed treason when he's gave that virus to China and then gave American dollars to help develop a military grade virus it's been sent to Guantánamo for guaranteeing that our society can become even more sick by By wearing them petri dish called a mass turkey to commit mass murder
Or "Seth Bates":
He even tricked us all by saying, early on, that they weren't needed. What a liar.
And even the account itself sort of admitted in an earlier post that many people get confused by it:
Don't get fooled!