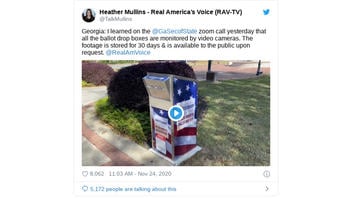 Is video recorded of all ballot drop-off locations in Georgia, and is the video available to the public upon request? Yes, that's true: Continuous or motion-sensor footage is recorded of all ballot drop-off locations in Georgia. Any member of the public can request the surveillance footage, according to Georgia's secretary of state's office.
The claim appeared in a tweet (archived here) published on November 24, 2020 which opened:
"Georgia: I learned on the @GaSecofState zoom call yesterday that all the ballot drop boxes are monitored by video cameras. The footage is stored for 30 days & is available to the public upon request. @RealAmVoice
This is what the post looked like on Twitter at the time of writing:
(Source: Twitter screenshot taken on Wed Nov 25 15:14:45 2020 UTC)
The footage is kept at the county level for 30 days after the final certification of the election results or until the end of any contest involving an election on the ballot in the county, according to the Georgia election code. When the footage is requested, counties are required to respond with the materials within three business days of the request, according to state law known as the Open Records Act.
Neither the state, nor Fulton County, Georgia's largest county, were able to provide figures on the costs associated with providing people the footage they request, but costs are paid with taxpayer dollars at the county level, according to the Georgia secretary of state's office.
2020 is the first year Georgia implemented the ballot drop-boxes and recording devices following an emergency rule issued on July 1, 2020. Georgia will also be using the drop-boxes and video footage for the runoff elections in January 2021.
The Georgia election code has been updated and now requires that ballots be collected every three days starting from the second Monday before election day. So if any photos of videos appear in your social media feeds of someone emptying ballot drop boxes in Georgia, don't assume they're stealing ballots, they may be ordered and authorized to be removing the ballots to ensure timely counting.