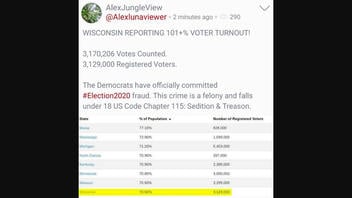 Were more ballots cast in Wisconsin than the number of registered voters in the state? No, that's not true: There were 3,684,726 "active registered voters" as of November 1, 2020, and there have been 3,297,199 ballots counted as of this writing. Wisconsin also allows for same-day in-person voter registration.
The claim appeared in an Instagram post (archived here) published by @kagbabe2 on November 4, 2020, with no caption. The text in the photo opened:
WISCONSIN REPORTING A 101% VOTER TURNOUT!

3,170,206 Votes Counted.

3,129,000 Registered Voters.

The Democrats have officially committed #Election2020 fraud.
This is what social media users saw:
This claim is false because it took numbers out of context and used old numbers. The number 3,129,000 is not the number of registered voters in Wisconsin this election cycle, but the number of registered voters during the 2018 election cycle, according to Ballotpedia, a nonpartisan site. In 2018, 2.7 million people voted in Wisconsin. There was not a 101% turnout in Wisconsin in 2018, nor was there one in 2020.
Snopes also reported this claim to be false.