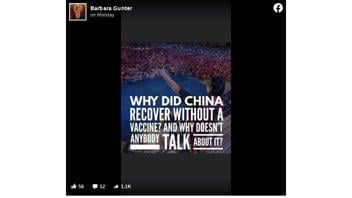 Did China recover from COVID-19 without a vaccine, which no one has reported? No, that's not true: China has already administered nearly 1 million doses of experimental COVID-19 vaccines. And that has been reported widely in scientific publications as well as popular media and news sites.
The claim appeared in a post (archived here) published on Facebook on November 30, 2020. It opened:
Why did China recover without a vaccine? And why doesn't anybody talk about it?
This is what the post looked like on Facebook at the time of writing:
(Source: Facebook screenshot taken on Tue Dec 1 23:30:39 2020 UTC)
To be clear, medical experts say China has controlled its COVID-19 crisis since March because of strict and aggressive measures the central government enacted soon after determining an epidemic was taking hold in the city of Wuhan, the capital of Central China's Hubei province. But China also has been at the forefront of vaccine implementation that started early in the pandemic. ScienceMag.org noted in a November 25, 2020, article just how early:
The first people in the world to receive a COVID-19 vaccine were not part of a clinical trial. No TV stations or newspapers covered the historic event. No company issued a statement.

On 29 February, less than 2 months after the world awakened to the threat of the new disease, virologist Chen Wei, a major general in China's army, and six military scientists on her team stood in front of a Chinese Communist Party flag and received injections of an experimental COVID-19 vaccine.
Since then, nearly 1 million Chinese citizens have received one of four experimental vaccines, none of which has received final approval. They are all still undergoing Phase III human testing and safety trials. Two of the vaccines are being developed by Sinopharm subsidiary CNBG and one each by CanSino Biologics and Sinovac. Said ScienceMag.org:
But China is not waiting for the phase III results before widely using the vaccines at home. Its regulators appear to be satisfied with animal studies combined with the minimal safety and immune response data from phase I and II trials. In June, CanSino received an emergency use authorization to vaccinate the military, and since then both Sinovac and CNBG have received green lights to vaccinate large populations outside of clinical trials.
There have been no significant health issues as a result of the vaccination efforts, the South China Morning Post reported on November 19, 2020, quoting Liu Jingzhen, chairman of China National Pharmaceutical Group (Sinopharm), from an interview he gave to a Chinese digital media company.
In terms of emergency use, the vaccines were applied to nearly a million people and there has not been a single case of a serious adverse event. People have had only mild symptoms.
Vox explained in a November 25, 2020, article how it was possible to vaccinate that many people:
In August, the government official in charge of overseeing vaccine development in China, Zheng Zhongwei, said, "In order to prevent the disease spread in the fall and winter, we are considering a moderate expansion in the [emergency use] program." People in high-risk occupations and high-risk demographics were intended to be the priority recipients.

Since then, news has trickled out about the authorized vaccines becoming available in a number of cities, but not through anything resembling a coordinated campaign.

Zhejiang province appears to be particularly open to administering the vaccines. As of mid-October, the provincial government said almost 750,000 doses of Covid-19 vaccines have been doled out in Zhejiang. The news site Caixin reported that health care workers had received a vaccine at a Hangzhou hospital.

Two other cities in the province, Jiaxing and Yiwu, began offering vaccines in October. These cities are known for their export industries, and workers traveling overseas have been among the main vaccine recipients in China, according to Caixin.

Yet Jiaxing officials said any member of the public with "emergency needs" could sign up for an appointment -- not just those deemed to be at higher risk. Recipients of the vaccine have been wide-ranging in other cities as well: NPR's Emily Feng reported that a Peking duck chef was in line to get vaccinated in Beijing. Chinese students going abroad have also been common recipients of the vaccines, a Sinopharm official told the Paper.

"This is still a decentralized process," said Yanzhong Huang, "so local governments and vaccine makers, you know, are taking advantage of this regulatory vacuum, to make the vaccine available to the people in China."
The vaccinations are being administered in a decentralized manner, with little to no coordination. That means local governments and vaccine manufacturers are taking advantage of the regulatory void. For example, a November 12, 2020, story on npr.org pointed out how vaccine manufacturers are taking charge of distribution:
Sinovac has already set up several vaccination sites in China's coastal Zhejiang province where several hundred vaccine doses each day are sold first come first served for about RMB400 ($60) in out of pocket costs.
These vaccination efforts have been widely reported, including articles in the Wall Street Journal, Fortune and Newsweek.
The irony is that China has done such a good job of controlling COVID-19 that it doesn't have as much of a need for the vaccine as do other nations.
According to the World Health Organization, from January 3, 2020, to December 2, 2020, China has had 93,668 confirmed cases and 4,750 deaths. The WHO reports that for the same time period, the United States has had 13.385 million confirmed cases and 266,043 deaths.
Updated daily figures can be obtained here for the United States and here for China.
The vast discrepancy in numbers is even more significant because China has about 1.4 billion residents while the U.S. Census says the United States has nearly 331 million.
Why the huge difference? CNN explained in a December 1, 2020, special report:
China's leaders were the first to confront the virus, implementing a raft of draconian restrictions beginning in late January intended to curb the spread of the outbreak. Using sophisticated surveillance tools, government officials enforced strict lockdowns across the country, largely restricting more than 700 million people to their homes, while sealing national borders and carrying out widespread testing and contract tracing.
The Lancet medical journal noted in an October 8, 2020, article titled "China's successful control of COVID-19" why China has done so well. Gregory Poland, director of the Vaccine Research Group at the Mayo Clinic (Rochester, Minnesota, USA), explained:
The speed of China's response was the crucial factor. They moved very quickly to stop transmission. Other countries, even though they had much longer to prepare for the arrival of the virus, delayed their response and that meant they lost control. ...

In China, you have a combination of a population that takes respiratory infections seriously and is willing to adopt non-pharmaceutical interventions, with a government that can put bigger constraints on individual freedoms than would be considered acceptable in most Western countries. Commitment to the greater good is engrained in the culture; there is not the hyper-individualism that characterises parts of the USA, and has driven most of the resistance to the countermeasures against the coronavirus.
Poland noted that the Chinese accept the principle that disease control is a matter of science, saying:
China does not have the kind of raucous anti-vaccine, anti-science movement that is trying to derail the fight against COVID-19 in the USA.
Nearly from the onset, China was recognized for its control of the pandemic. An article in the May 19, 2020, issue of the Dubai Medical Journal was titled:
China's Response to the COVID-19 Outbreak: A Model for Epidemic Preparedness and Management.
The article notes:
The early responses and measures adopted by China, such as early reporting and situation monitoring, large-scale surveillance, and preparation of medical facilities and supplies, were all successful in reducing the epidemic in China generally and in the epicenter Wuhan specifically.
The Lancet October 2020 article details how China brought the epidemic under control rapidly and effectively:
It has a centralized epidemic response system.
Ageing parents tend to live with their children, or alone but nearby. Only 3% of China's elderly population live in care homes, whereas in several western countries, such facilities have been major sources of infection.
Wuhan was placed under a strict lockdown that lasted 76 days.
Public transport was suspended. Soon afterward, similar measures were implemented in every city in Hubei province.
Across the country, 14,000 health checkpoints were established at public transport hubs.
School re-openings after the winter vacation were delayed and population movements were severely curtailed.
Dozens of cities implemented family outdoor restrictions, which typically meant that only one member of each household was permitted to leave the home every couple of days to collect necessary supplies.
Within weeks, China tested 9 million people in Wuhan.
It set up an effective national system of contact tracing.
As the world's largest manufacturer of personal protective equipment, it was relatively straightforward for China to ramp up production of clinical gowns and surgical masks. Moreover, the Chinese readily adopted mask wearing.
On February 5, 2020, Wuhan opened three hospitals. Another 13 would appear over the next few weeks. The hospitals were established within public venues such as stadiums and exhibition centers and were used to isolate patients with mild-to-moderate symptoms of COVID-19. Patients who started to show symptoms of severe disease were transferred to conventional hospitals. The network of hospitals, which held 13,000 beds, meant that patients with COVID-19 did not have to isolate at home, which reduced the risk of family members becoming infected. By March 10, 2020, the Fangcang hospitals were no longer needed.
From around the same time, the focus of China's countermeasures shifted from controlling local transmission to preventing the virus from taking hold as a result of imported cases. Those who entered the country were tested and quarantined.
The Lancet pointed out that control measures even included this:
Drones equipped with echoing loudspeakers rebuked Chinese citizens who were not following the rules. The state-run Xinhua news agency has released footage taken from the drones. "Yes Auntie, this drone is talking to you", one device proclaimed to a surprised woman in Inner Mongolia. "You shouldn't walk around without wearing a mask. You'd better go home and don't forget to wash your hands."
The result, The Lancet said:
A modelling study ... calculated that the public health actions undertaken by China between January 29, 2020 and February 29, 2020 may have prevented 1.4 million infections and 56,000 deaths.