STORY UPDATED: check for updates below.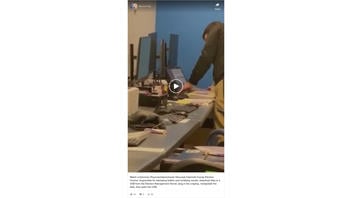 Does an election video show a worker "manipulating" data in Gwinnett County, Georgia? No, that's not true: The video shows a person moving what appears to be a USB thumb drive from one computer to another and looking at the screen. The technician was transferring a report so he could read it, according to Gabriel Sterling, Georgia's voting system implementation manager. He strongly denied the implication that the worker did anything wrong or illegal and expressed concern that the false allegations against the tech could lead to violence against him.
The claim appeared in a Facebook post (archived here) on December 1, 2020. The post, which included the two-minute video, read:
Watch a Dominion Representative (Xavier Khouri) at Gwinnett County Election Central, responsible for tabulating ballots and certifying results, download data to a USB from the Election Management Server, plug it into a laptop, manipulate the data, then palm the USB.
This is what the post looked like at the time of writing:
(Source: Facebook screenshot taken on Wed Dec 2 00:57:08 2020 UTC)
The post clearly implied that the worker in the video was up to no good, as did the off-camera narration by what sounds like a man and a woman.
Sterling addressed that claim during a press conference at the state Capitol on December 1, 2020. He said:
A 20-something tech in Gwinnett County today has death threats and a noose put out, saying he should be hung for treason because he was transferring a report on batches from an EMS [election management system] to a county computer so he could read it.
Sterling said that he spoke with representatives of Dominion Voting Systems, who described the worker as "one of the better ones they got." About the contractor, Sterling said:
His family is getting harassed now. There's a noose out there with his name on it. It's just not right.
Later, Sterling added:
This kid took a job. He just took a job, and it's just wrong. I can't begin to explain the level of anger I have right now over this. And every American, every Georgian -- Republican and Democrat alike -- should have that same level of anger.
You can watch the start of Sterling's impassioned press conference here:
Separately, Dominion spokesperson Michael Steel spoke to allegations of voter fraud during a Fox News interview published on November 22, 2020. Here's the relevant part from that report:
When asked if a poll worker could use a USB thumb drive to add votes for a candidate, Steel said that the vote tabulators do not have such access. He also said they are not connected to the internet.

'It's not physically possible to do what they're describing,' he reiterated.
Also separately, Attorney General William Barr in an interview with The Associated Press on December 1, 2020, said the FBI and Justice Department have found no evidence of widespread fraud that would have changed the outcome of the election.
Lead Stories has written quite a bit about Dominion since the 2020 election. Here's a look at our latest coverage:
2020-12-02T22:36:55Z

2020-12-02T22:36:55Z

This story was updated on December 2, 2020, to include a paragraph on an AP interview with U.S. Attorney General William Barr, in which Barr said the FBI and Justice Department have found no evidence of widespread fraud in the 2020 election.