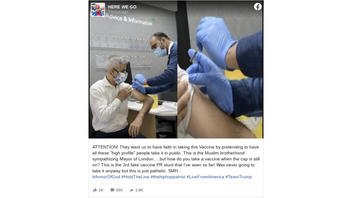 Does a photo show London Mayor Sadiq Khan getting a COVID-19 vaccination with the cap still on the needle? No, that's not true: This photo was posted to Twitter by the Mayor London on September 28, 2020 with a message about how to book and get a free 'flu jab.' The needle appears to still have its plastic cap on in the photo, and this caused many at the time to question if the Mayor, Sadiq Khan, had simply posed for the photo without actually being vaccinated. The image does not show the mayor pretending to get a Covid-19 vaccination.
The claim appeared in a post (archived here) published by the Facebook page 'Here We Go' on December 18, 2020, with this caption:
ATTENTION! They want us to have faith in taking this Vaccine by pretending to have all these "high profile" people take it in public. This is the Muslim brotherhood sympathizing Mayor of London.....but how do you take a vaccine when the cap is still on? This is the 3rd fake vaccine PR stunt that I've seen so far! Was never going to take it anyway but this is just pathetic. SMH...

#ArmorOfGod

#HoldTheLine

#thehiphoppatriot

#LiveFromAmerica

#TeamTrump
This is what the post looked like on Facebook at the time of writing:
(Source: Facebook screenshot taken on Fri Dec 18 20:49:40 2020 UTC)
The Facebook post never identifies the COVID-19 vaccine specifically, but the subject is implied due to the timing, just days after the first doses of the Pfizer vaccine had begun to be administered around the world with much fanfare and press coverage.
The first person to receive the vaccine in the UK was 90-year-old Margaret Keenan. She got her jab on Tuesday, December 8, 2020, reported by the BBC in the article, "Covid-19 vaccine: First person receives Pfizer jab in UK" Almost a week later, the first Canadian, 89-year-old Gisèle Lévesque, got her COVID vaccination on Monday, December 14, reported by the CBC, "As first Quebecers get vaccinated against COVID-19, leaders see light at end of long, dark tunnel." Sandra Lindsay, the first health care worker in the USA also was vaccinated in front of the press on Monday, The New York Post reported, "Queens nurse becomes first in US to get Pfizer's COVID-19 vaccine."
There should be no confusing this flu campaign photo for photos from media coverage of the rollout of the COVID-19 vaccine. The Mayor's photo promoting Flu vaccines was published ten weeks before the new Pfizer COVID vaccine would begin to be administered in the UK.
The 'Mayor of London' account posted this photo to Twitter on September 28, 2020, along with a message encouraging people to get a flu shot.
We are heading into flu season.

If you or someone you know is entitled to receive a flu jab, remember you can get one for free at your local high street pharmacy or GP surgery.

Booking one is easy. Just visit https://t.co/1tKDvcOzi0 pic.twitter.com/eR1tkfIvcB

-- Mayor of London (gov.uk/coronavirus) (@MayorofLondon) September 28, 2020
The mayor, Sadiq Khan, also posted a video that day from outside the pharmacy to his personal twitter account.
As someone with asthma, I've just had my free flu jab.

If you, or someone you know, is entitled to receive a flu jab, remember you can get one for free at your local high street pharmacy or GP surgery.

⬇️ Booking one is easy. Just visit: https://t.co/kU1W7gWxFh pic.twitter.com/TNYsaxasx2

-- Sadiq Khan (@SadiqKhan) September 28, 2020
At the time this photo was published, people questioned if the mayor really got the flu vaccine or if he was just posing for the camera due to the plastic cover still being on the needle. Full Fact looked into this at the time and published a fact check article on October 2, 2020, "A picture of Sadiq Khan just before his flu jab doesn't show he didn't get it" That article quotes a mayor's spokesperson:
The Mayor received his flu vaccination at a local pharmacist on Monday. This photo was taken just before he had the injection, which is why the cap is still on the needle. It is important that everyone who is eligible gets vaccinated as this is the best way to help protect yourself against flu.