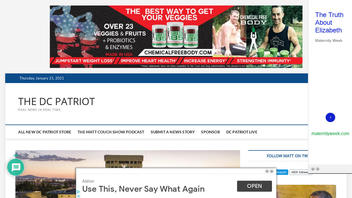 Did the Arizona Senate President release evidence of voter fraud one hour after Joe Biden was sworn in as president? No, that's not true: Arizona Senate President Karen Fann released a statement about an ongoing legal battle with the Maricopa County Board of Supervisors, but there was no mention in the statement about voter fraud. "There is no evidence of voter fraud," Fields Moseley, the spokesperson for the Maricopa County Board of Supervisors, told Lead Stories.
The claim appeared in an article (archived here) where it was published by The DC Patriot on January 20, 2021 under the title "One Hour After Biden is Sworn In, Arizona Senate President Releases Evidence of Voter Fraud." It opened:
You can't make up this level of corruption anymore America, literally one hour after Joe Biden is worn (sic) in as the 46th President of the United States, Arizona has released evidence from their state Senate on voter fraud.
This is what the story looked like when it was published: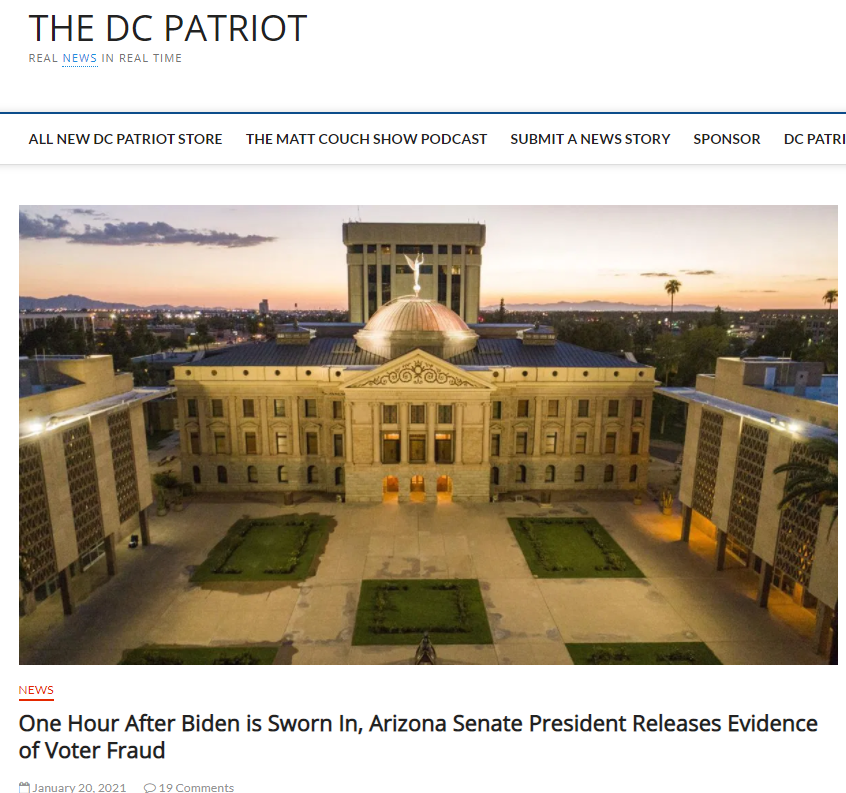 The article posted a statement from Arizona State Senator Karen Fann that made no mention of evidence of voter fraud. She tweeted the statement on January 20, 2021:
FOR IMMEDIATE RELEASE: Statement from Senate President @FannKfann on agreement with Maricopa County Board of Supervisors#AZSenate #ElectionIntegrity pic.twitter.com/xboOoQ3r9G

-- AZSenateRepublicans (@AZSenateGOP) January 20, 2021
I am pleased to announce that after a hard-fought battle to seek information on behalf of Arizona voters regarding the integrity of the 2020 election, we have reached a favorable agreement with the Maricopa county Board of Supervisors. Not only has the board agreed to turn over all the relevant information we sought in our subpoena so that we may perform an audit, but they also acknowledge that the Legislature is a sovereign power of state and that the county is a political subdivision, and as such, the Legislature has the constitutional and statutory authority to issue subpoenas. Chairman Jack Sellers was instrumental in facilitating this agreement and I appreciate his efforts. I look forward to continuing our work to restore integrity and faith in our election process."
Moseley reiterated to Lead Stories there was no voter fraud in Arizona in the November election.
"We have been involved with 12 court cases and no evidence of voter fraud has been found."
Moseley shared a response from Chairman Sellers regarding the negotiations with the Senate with Lead Stories via email. There is no mention of voter fraud evidence in the statement:
The Board of Supervisors through its legal team continues to negotiate in good faith with the representatives of the Arizona State Senate President. This Board is being updated as negotiations continue on the terms of a potential agreement. The parties are working toward an agreement which delivers some of the requested documents and information while protecting voter privacy and the integrity of election equipment. We look forward to reaching consensus on these matters. This Board has always been consistent in supporting a forensic audit and will continue to take steps toward that end. Members are actively working with stakeholders, including the Recorder, and hope to have an audit completed soon."