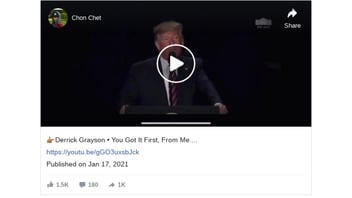 Does a video published in January, 2021 show Donald Trump suggesting that his supporters will punish Congress for impeaching him a second time? No, that's not true: The video is a heavily-edited clips recorded at a February 6, 2020 prayer breakfast at which Trump grumbled about his first impeachment. The video that purports to reference the second impeachment not only has been altered, but also taken out of the context of the 2020 prayer breakfast. For example, the video was cropped, darkened and ominous background music and booming sounds have been added. It also includes text with veiled threats of retaliation, such as "the gloves are off," for Congress impeaching Trump a second time.
The video appeared in a Facebook post (archived here) published January 17, 2021 under the title, "You Got It First, From Me...." It opened:
As everybody knows, my family, our great country, and your President, have been put through a terrible ordeal by some very dishonest and corrupt people. They have done everything possible to destroy us, and by so doing, very badly hurt our nation. They know what they are doing is wrong, but they put themselves far ahead of our great country.
This is what the post looked like on Facebook at the time of writing:
(Source: Facebook screenshot taken on Thu Jan 21 19:21:45 2021 UTC)
Congress first impeached Trump on December 18, 2019. Trump was acquitted in a Senate trial on February 5, 2020, the day before the prayer breakfast.
A week after insurrectionists stormed the U.S. Capitol on January 6, 2021 in a failed effort to stop Congress from certifying election results, the House impeached Trump, charging him with inciting the attack. He is the only president to have been impeached twice.
The Facebook video contains a roughly 1:15-minute excerpt from a more than 27-minute video taken at the prayer breakfast in 2020. The video has been cropped so that this version only shows Trump and not the audience nor other officials with whom he shared the dais. Superimposed on this version is the White House emblem, as though this was an official video.
Here is the actual video from the prayer breakfast:
The altered video contains this paragraph from Trump's actual speech:
Weeks ago, and again yesterday, courageous Republican politicians and leaders had the wisdom, fortitude, and strength to do what everyone knows was right. I don't like people who use their faith as justification for doing what they know is wrong. Nor do I like people who say, "I pray for you," when they know that that's not so
But the video on Facebook leaves out this final sentence of the above paragraph of the speech:
And I'll be discussing that a little bit later at the White House.
Instead, the altered video briefly fades to black before showing what appears to be a screenshot of a November 2019 social media post declaring "There is no step five after Impeachment Scam"
The video then transitions to a black screen, on which this statement is written in gray letters:
Now It's OUR Turn
The video then transitions to a black screen on which this statement is written in white letters:
And The Gloves Are Off...
The letters turn gray, then fade. The video ends.