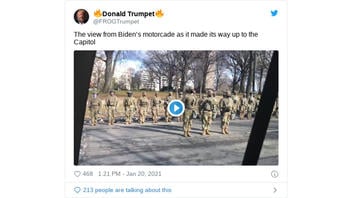 Did National Guard Members 'turn their backs' on President Elect Joe Biden's Motorcade as it drove past them on the way to the inauguration? No, that's not true: This video is real and does show National Guard Members along the route the motorcade traveled facing in various directions, but the Guard Members were performing their duty as expected. To say they had 'turned their backs' on the motorcade is a projection that does not reflect the duty the National Guard Members were carrying out: keeping watch.
The video originated from an ABC reporter who was riding in one of the press vans of the motorcade to the inauguration. The video was republished in a tweet (archived here) by 'Donald Trumpet' on January 20, 2021 with the caption:
Majority of the military turning their backs on Biden as the Biden motorcade drove by
This is what the post looked like on Twitter at the time of writing:
(Source: Twitter screenshot taken on Thu Jan 21 18:30:33 2021 UTC)
Lead Stories reached out to the National Guard Press Desk by email. The reply explained that this is routine protocol for this type of duty.
These National Guardsmen were on duty with a mission to protect the president against potential threats. Some are facing out to ensure the safety of all.
National Guard troops from all 50 states, three territories and the District of Columbia were in D.C. to provide support to local Law Enforcement for the inauguration at the request of The U.S. Secret Service, U.S. Park Service, and U.S. Capitol Police. This was explained in a January 14, 2021 article on the National Guard website, "National Guard troops in DC for inaugural support." Army Gen. Dan Hokanson, chief of the National Guard Bureau said:
I have visited with these Guard men and women every night, and they understand the importance of this mission. They are also proven, prepared, and proud to do their part to ensure a peaceful and safe inauguration of our 46th commander-in-chief.