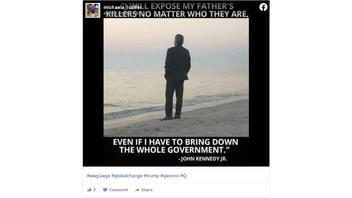 Is John F. Kennedy Jr. actively working to expose his father's killers, even if it means he has to bring down the whole government? No, that's not true: JFK Jr. has been dead since crashing his small plane into the Atlantic Ocean on July 19, 1999. One common belief of QAnon followers is that the younger Kennedy is still alive and has been secretly working with Donald Trump for years to destroy the "deep state" players behind the November 22, 1963 assassination of President Kennedy. One current claim is a fake quote from JFK Jr. saying that he would "expose my father's killers." There is no record of Kennedy having said that while he was alive and certainly not after his death.
The claim re-appeared in a meme in a post (archived here) shared on Facebook on January 13, 2021. It read:
I will expose my father's killers no matter who they are, even if I have to bring down the whole government. John Kennedy Jr.
This is what the post looked like on Facebook at the time of writing:
(Source: Facebook screenshot taken on Sun Jan 17 01:03:25 2021 UTC)
A Google search of the purported JFK Jr. quote does not reveal any historical record of the late president's son saying or writing those words during his 38 years of life. It does point to several websites that sell T-shirts bearing the quote. It also leads to posts on QAnon social platform pages promoting the idea that he is still alive and will at some point reveal himself.
The myth has been a source of huge disappointments to many QAnon believers. They were told that Kennedy would publicly appear in Washington, D.C., at the 2019 July 4th celebration when President Trump would announce that JFK Jr. would replace Michael Pence as vice president on the 2020 GOP ticket. As Lead Stories reported in this debunk, it did not happen.
QAnon followers were told a year later that the big reveal would happen at Mount Rushmore, South Dakota, at President Trump's Independence Day celebration on July 3, 2020. As Lead Stories reported here, it did not happen.
Even as late as October 2020, QAnon followers were spreading the word that Kennedy would still replace Pence. Lead Stories debunked that claim here.
The National Transportation Safety Board released its full investigative report into the plane accident in which Kennedy, wife Caroline Bessette, and sister-in-law Lauren Bessette perished on July 19, 1999. You can read and download it here. The NTSB concluded that Kennedy, who was relatively inexperienced as a pilot flying above water at night, became disoriented and made mistakes that caused the small aircraft to crash into the Atlantic Ocean approximately 7 1/2 miles southwest of Gay Head, Martha's Vineyard, Massachusetts. Investigators blamed pilot error due to "spatial disorientation."
The AC (FAA Advisory Circular) states that an illusion or false impression occurs when information provided by sensory organs is misinterpreted or inadequate and that many illusions in flight could be created by complex motions and certain visual scenes encountered under adverse weather conditions and at night. It also states that some illusions may lead to spatial disorientation or the inability to determine accurately the attitude or motion of the aircraft in relation to the earth's surface. The AC also states that spatial disorientation as a result of continued VFR flight into adverse weather conditions is regularly near the top of the cause/factor list in annual statistics on fatal aircraft accidents.
The NTSB report also confirmed that a medical examiner conducted autopsies on all three bodies:
On July 21, 1999, examinations were performed on the pilot and passengers by Dr. James Weiner, Office of the Chief Medical Examiner, Commonwealth of Massachusetts. The results indicated that the pilot and passengers died from multiple injuries as a result of an airplane accident.

Toxicological testing was conducted by the FAA Toxicology Accident Research Laboratory, Oklahoma City, Oklahoma. The toxicological tests were negative for alcohol and drugs of abuse.
There is no evidence that Kennedy survived the crash and is alive today.