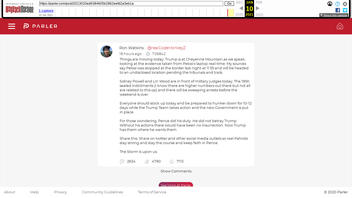 Was House Speaker Nancy Pelosi stopped at the U.S. border just before midnight on Saturday, January 9, 2021, and taken to an undisclosed location of face trial? No, that's not true: Pelosi was seen on the job in Congress on Monday, guiding the introduction of the second impeachment resolution against President Trump. Social media posts claiming Pelosi was arrested in a purge by Trump ahead of military tribunals offered no supporting evidence. Speaker Pelosi was seen working at the Capitol on Monday and Tuesday. We can also confirm that President Trump did not fly to Colorado Springs to command "the Storm" from NORAD's complex inside Cheyenne Mountain. Lead Stories also debunked another claim that President Trump invoked the Insurrection Act over the weekend to facilitate the takedown of his rivals.
The claim appeared in a Parler post on January 10, 2021, just hours before the social media site went dark. You can see an archived version here. Screenshots of this post were also shared on Facebook, including this post. by @realCodeMonkeyZ opened:
Things are moving today. Trump is at Cheyenne Mountain as we speak, looking at the evidence taken from Pelosi's laptop real-time. My sources say Pelosi was stopped at the border last night at 11:55 and will be headed to an undisclosed location pending the tribunals and trails.

Sidney Powell and Lin Wood are in front of military judges today. The 195K sealed indictments (I know there are higher numbers out there but not all are related to this op) and there will be sweeping arrests before the weekend is over.

Everyone should stock up today and be prepared to hunker down for 10-12 days while the Trump Team takes action and the new Government is put in place.
This is what the now-offline Parler post looked like: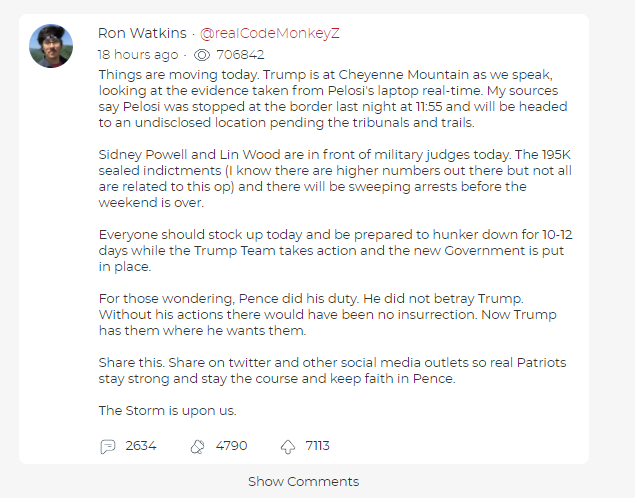 This is the Facebook version at the time of writing:
The Parler post concluded:
For those wondering, Pence did his duty. He did not betray Trump. Without his actions there would have been no insurrection. Now Trump has them where he wants them.

Share this. Share on twitter and other social media outlets so real Patriots stay strong and stay the course and keep faith in Pence.

The Storm is upon us.
Pelosi was at the U.S. Capitol on Monday and Tuesday, not an undisclosed location awaiting trial. She is overseeing House plans to pass a resolution calling on Vice President Pence to invoke the 25th Amendment to remove Trump from office and to otherwise impeach Trump for a second time.
Along with the claim that Pelosi was arrested, the post's claim that Trump traveled to Cheyenne Mountain, which is the underground complex located near NORAD and USNORTHCOM headquarters at Peterson Air Force Base in Colorado Springs, Colorado, is also false. President Trump was at the White House on Monday, where he made public remarks attacking social media platforms.
While President Trump made no public appearances on the previous Sunday and Monday, he did speak to reporters on the White House lawn as he departed for a trip to Texas Tuesday morning. Watch this clip on C-Span for proof Trump was not in Cheyenne Mountain, Colorado.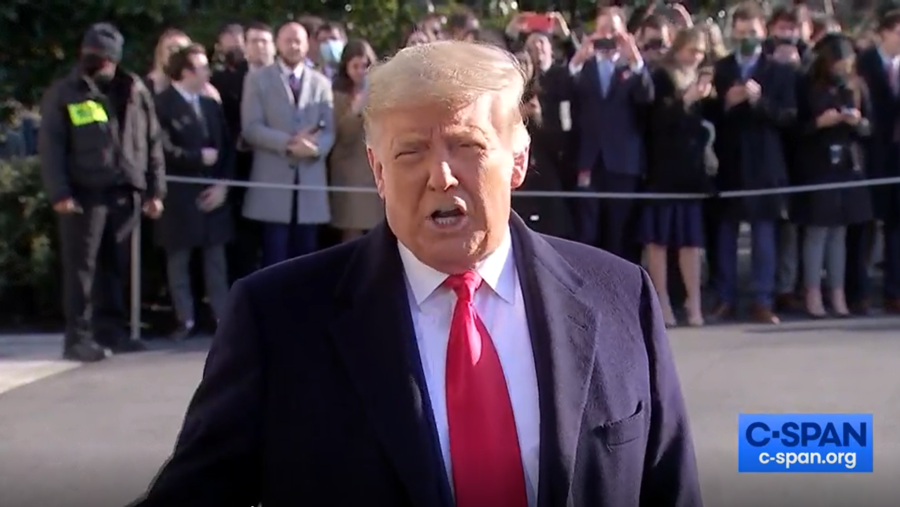 The post's advice that Americans stock up and be prepared to hunker down for 10-12 days is not debunkable, especially considering much of the country is in lockdown because of a pandemic. It is always good to have a good supply of toilet paper and other essentials.