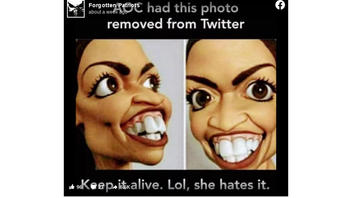 Did U.S. Rep. Alexandria Ocasio-Cortez, a Democrat from New York, have an unflattering "photo" of her removed from Twitter? No, that's not true: First, it's not a photo. It's a caricature that depicts the congresswoman flashing a toothy grin, revealing an overbite and ample gum line. Second, it was still on Twitter and other social media as of February 18, 2021. Lead Stories did a reverse image search of the Ocasio-Cortez caricature appearing on Twitter. We found that it still appears in many tweets from recent months. Lead Stories also has contacted Twitter regarding the status of tweets with the caricature in question. We will update this post once the company responds.
The claim appeared in a Facebook post (archived here) published February 9, 2021, which opened:
AOC had this photo removed from Twitter

Keep it alive. Lol, she hates it.
This is what the post looked like on Facebook at the time of writing:
(Source: Facebook screenshot taken on Thu Feb 18 18:35:59 2021 UTC)
Lead Stories reached out to Ocasio-Cortez's office for comment on the claim and will update this story if a response is received.
The caricature of Ocasio-Cortez remains on Twitter, including in this tweet from August 9, 2020, which said:
Stupidest person alive
Stupidest person alive https://t.co/a1KWSBcWFx pic.twitter.com/jZ1IVAKlxA

-- Nasser Miranda (@nasserjmiranda) August 9, 2020
This tweet from October 9, 2020, offers another example of the Ocasio-Cortez caricature remaining on Twitter as of February 18, 2021. It said:
Give her a fancy title and all of a sudden she thinks she's all that! Hahahaha hahahaha hahahaha I'll still call her a dumb ass! Oh, by the way, go fetch me a beer!
Give her a fancy title and all of a sudden she thinks she's all that! Hahahaha hahahaha hahahaha I'll still call her a dumb ass! Oh, by the way, go fetch me a beer! https://t.co/lUqACJkkjJ pic.twitter.com/g5bJpv4WSe

-- Tony (@Tony82181659) October 9, 2020