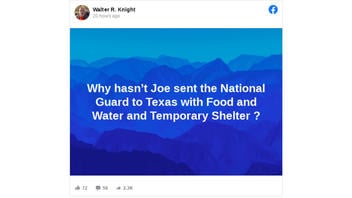 Did Joe Biden send the National Guard to Texas with food, water and temporary shelter? No, he did not: Each state's National Guard unit is under the command and control of the governor, not the president, and Governor Abbott of Texas has activated the Guard help with the extreme winter storm problems. Biden authorized "Department of Homeland Security, Federal Emergency Management Agency (FEMA), to coordinate all disaster relief efforts," a release posted on the official White House website that same day explained.
The claim appeared as a post (archived here) where it was published on Facebook on February 18, 2021. It opened:
Why hasn't Joe sent the National Guard to Texas with Food and Water and Temporary Shelter?
This is what the post looked like on Facebook at the time of writing:
(Source: Facebook screenshot taken on Fri Feb 19 20:01:24 2021 UTC)
All states have an army national guard and an air national guard and the governor serves as the commander-in-chief, not the president.
The Texas Military Department deployed guard members around the state as the winter storm took out power and water for millions of people and they tweet frequently about their efforts.
Texas National Guard Engineers help Texans in need get to warming shelters during extreme cold weather conditions in Abilene. pic.twitter.com/ZgYUNwgYNy

-- Texas Military Dept (@TXMilitary) February 16, 2021
Governor Abbott also tweeted about the Texas National Guard's help during the storm.
The Texas National Guard always steps forward to serve and protect the people of Texas when needed.

Now they are deployed across the state to help move vulnerable Texans to warm shelters.

Thanks @TexasGuard.https://t.co/DwXqsy2fWu

-- Greg Abbott (@GregAbbott_TX) February 16, 2021
ABC 13 in Texas reported about the guardsmen deployment:
According to the Texas Military Department public affairs staff, guardsmen are currently in Amarillo, Wichita Falls, Dallas-Fort Worth, Abilene and Waco. In an update sent to ABC13 late Tuesday night, The TMD is also mobilizing more than 300 service members to Houston, Austin, San Antonio, and Dallas-Fort Worth to help man warming stations to support those without power and water."

President Biden has taken action to aid Texas and other states affected by the extreme winter storm. "President Joseph R. Biden, Jr. Approves Texas Emergency Declaration," was the title of the order he signed Sunday, February 14, 2021, which was posted on the White House website. The declaration read:

The President's action authorizes the Department of Homeland Security, Federal Emergency Management Agency (FEMA), to coordinate all disaster relief efforts which have the purpose of alleviating the hardship and suffering caused by the emergency on the local population, and to provide appropriate assistance for required emergency measures, authorized under Title V of the Stafford Act, to save lives and to protect property and public health and safety, and to lessen or avert the threat of a catastrophe in all 254 Texas counties. Specifically, FEMA is authorized to identify, mobilize, and provide at its discretion, equipment and resources necessary to alleviate the impacts of the emergency. Emergency protective measures for mass care and sheltering and direct federal assistance will be provided at 75 percent federal funding.
Biden posted several tweets on his @POTUS and @JoeBiden accounts about Texas and noted he had a telephone call with Governor Abbott.
Jill and I are keeping Texas, Oklahoma, and other impacted states in our prayers. I've declared states of emergency, authorized FEMA to provide generators and supplies, and am ready to fulfill additional requests. Please heed the instructions of local officials and stay safe.

-- President Biden (@POTUS) February 18, 2021
Tonight, I called Governor Greg Abbott to discuss the ongoing situation in Texas and identify ways we can support the state's recovery from this storm. I made clear to the Governor that I'll work relentlessly to get his state what they need. pic.twitter.com/UBwH8DMep2

-- President Biden (@POTUS) February 19, 2021

On February 19, 2021 the White House pool press report noted, "Biden said he will sign a major disaster declaration for Texas possibly as soon as this afternoon. Spoke with Abbott last night about FEMA relief."
Lead Stories previously debunked the claim that Biden has been silent about the situation in Texas. He has made several public statements about the storm and its effects and pledged aid to Texas as well as the other states affected by the storm.
A readout of President Biden's February 16, 2021 call with the governors was released by the White House that day. It was reported on by Oklahoma News 4, WLBT 3 in Mississippi and The Washington Post.