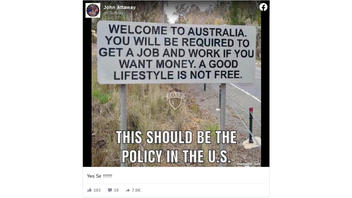 Does a "Welcome to Australia" road sign warn newcomers that they will be required to get a job and work for money if they want a good lifestyle? No, that's not true: The sign featured in this meme was photoshopped, a product of "Freedom of Speech Productions - Australian Right Wing Memes and News" in 2016 to present their point of view. The original meme has a discreet but clear watermark of the F.O.S.P. shield logo. Sometime since then, the original F.O.S.P. meme has been run through another meme-making program to add an additional caption, but F.O.S.P. at the time it posted the meme also posted a note saying F.O.S.P. thought it was a shame signs like that were not real.
The original meme was posted on the Facebook page of Freedom of Speech Productions on April 10, 2016. Since then the meme had another caption added and it resurfaced in a post (archived here) published on February 7, 2021, with the caption, "Yes Sir !!!!!!!". The photoshopped text of the road sign reads:
Welcome to Australia. You will be required to get a job and work if you want money. A good lifestyle is not free.
There is a watermark in the center of the picture of the F.O.S.P. shield logo.
There is also a watermark in the lower right corner that indicates the meme had its additional caption added by memematic.net. That caption reads:
This should be the policy in the U.S.
This is what the post looked like on Facebook at the time of writing:
(Source: Facebook screenshot taken on Fri Feb 12 15:45:52 2021 UTC)
Soon after the meme was first published it was featured in an article by Snopes. The link included in that article to the Facebook page of "Freedom of Speech Productions" now leads to a notification from Facebook that the link has expired. F.O.S.P.'s own page included the note: "It's a shame this sign isn't real"
Lead Stories located a copy of the original F.O.S.P. meme shared by "Conservative Post" on June 12, 2016.
(image source: Facebook screenshot 2/12/2020 10:15 AM)
This was not the only "Welcome to Australia" meme from F.O.S.P. Many memes they produced and spread with the #FreedomOfSpeechProductions hashtag carry the same structure and theme.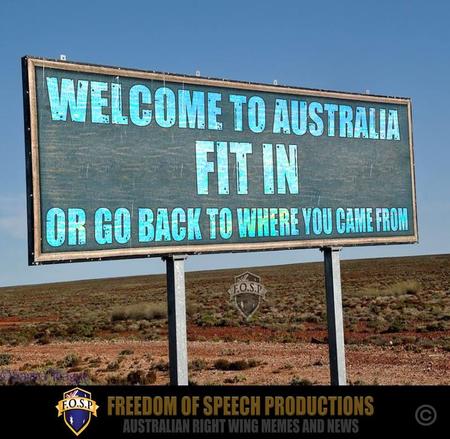 When a photoshopped picture is modified, especially in a less skilled way, or with meme captioning, it can have the effect of making the original photoshopped image seem more real or more believable. So while it may have been clear that the original F.O.S.P. meme was a fictional image designed to make a point, with the new meme caption, the fictional photo is held up as an example of how things are in Australia and should be in the U.S., and this could cause confusion about the road sign being real.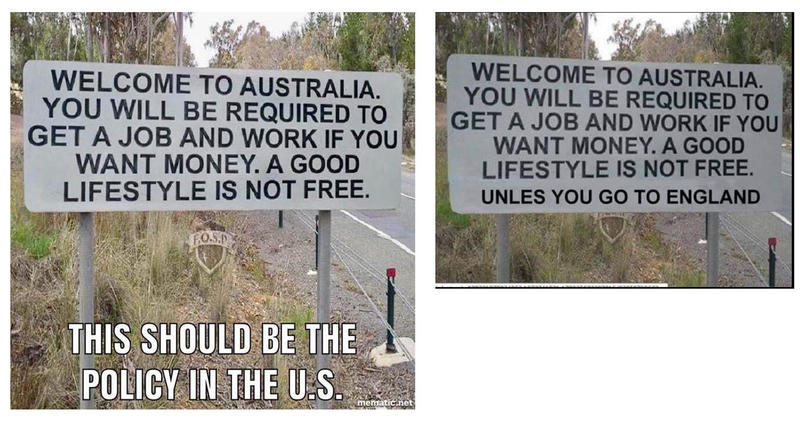 (image source: Facebook screenshots here and here 2/12/2021 12:45 PM)