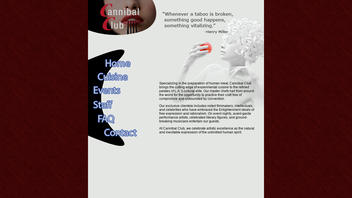 Is there really a "Cannibal Club" restaurant in Los Angeles and can you read all about it on their website? No, that's not true: the site was created as part of a web design class and uses stock photos and fake names for its staff. Peddlers of conspiracy theories that have latched on to the site and claim it is evidence for their theories have been fooled by a joke website.
The website (archived here) of the "Cannibal Club" restaurant bills itself as follows on their main page:
Specializing in the preparation of human meat, Cannibal Club brings the cutting edge of experimental cuisine to the refined palates of L.A.'s cultural elite. Our master chefs hail from around the world for the opportunity to practice their craft free of compromise and unbounded by convention.
Our exclusive clientele includes noted filmmakers, intellectuals, and celebrities who have embraced the Enlightenment ideals of free expression and rationalism. On event nights, avant-garde performance artists, celebrated literary figures, and ground-breaking musicians entertain our guests.
At Cannibal Club, we celebrate artistic excellence as the natural and inevitable expression of the unbridled human spirit.
However, as Reuters already pointed out in August 2020:
The "Staff" tab, however, shows photographs from stock catalogues and other websites, indicating that the website is a hoax. The profile image for Elspeth Blake, the alleged proprietor appears bit.ly/3gcvsq0 . A photo of Sophie Lafitte, listed as "Chef de Cuisine", appears here . Hero Conners, listed as "Art Director", appears bit.ly/2EloP7z , and Raven Chan, Service Manager appears bit.ly/329122P .
The Reuters fact check linked the domain name registration of the site (which was registered in 2008) to "a small company apparently dedicated to internet services", i.e. DreamHost (which actually is a multi-million dollar company with hundreds of employees that was named one of the best webhosting companies in 2021 by Cnet). Many website owners register their domain name anonymously through their webhosting provider, this does not mean the webhosting provider has anything to do with the content of the website.
Lead Stories reached out to the owner of the site through the contact form and received following reply to our question if the site was real:
Cannibal Club is a joke site that was originally created as the final project for a web design class during the 2000s. Since then, the web has become a darker place and certain deranged people have latched onto it to support their political narrative. Since Q linked to the site in 2020, I've been receiving death threats from his followers..
The email also included following statement:
I'd be happy to confirm that the site is a joke and that I never expected anyone to take it seriously.
Unfortunately several people over the years did take it seriously, including some people who have attempted to link the non-existent "Raven Chan" (the supposed "Service Manager" of the restaurant) to Priscilla Chan, the wife of Facebook CEO Mark Zuckerberg: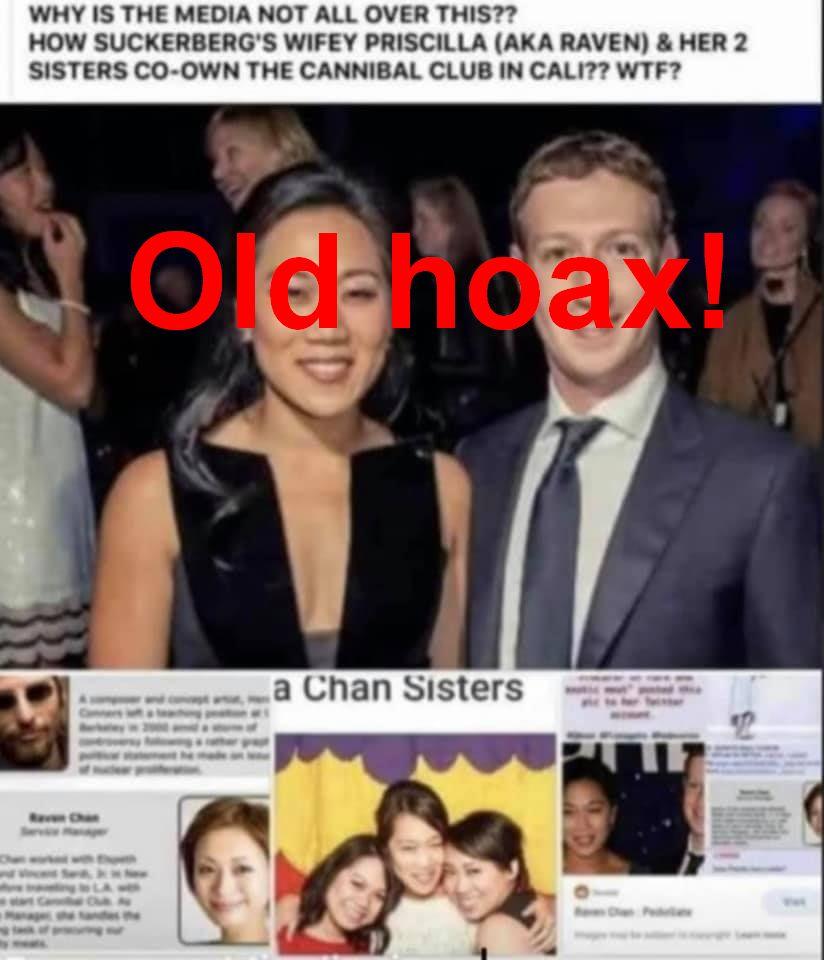 (Editors' Note: Facebook is a client of Lead Stories, which is a third-party fact checker for the social media platform. On our About page, you will find the following information:
Since February 2019 we are actively part of Facebook's partnership with third party fact checkers. Under the terms of this partnership we get access to listings of content that has been flagged as potentially false by Facebook's systems or its users and we can decide independently if we want to fact check it or not. In addition to this we can enter our fact checks into a tool provided by Facebook and Facebook then uses our data to help slow down the spread of false information on its platform. Facebook pays us to perform this service for them but they have no say or influence over what we fact check or what our conclusions are, nor do they want to.)