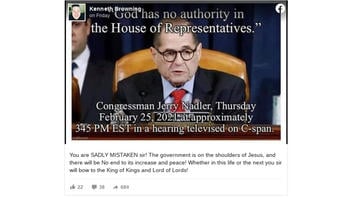 Did Jerry Nadler say "God has no authority in the House of Representatives"? No, that's not true: Video from the debate during which the New York representative supposedly said that shows he didn't utter the phrase. Lead Stories rates the claim false because, regardless of meaning, the claim is at odds with the publicly available transcript and recording, which clearly record what Nadler said.
An example of the claim appeared in a Facebook post (archived here) published on February 26, 2021. The post included a photo of Nadler, the alleged quote and the following text:
Congressman Jerry Nadler, Thursday February 25, 2021 at approximately 345 PM EST in a hearing televised on C-span.
This is what the post looked like on Facebook at the time of writing:
(Source: Facebook screenshot taken on Mon Mar 1 18:34:13 2021 UTC)
As the post referenced C-SPAN video, we checked the tape, which can be seen below:
The video was shot on February 25, 2021, as lawmakers were debating the Equality Act, which -- if signed into law -- would prohibit discrimination on the basis of sexual orientation and gender identity. The legislation passed the House 224-206.
Nadler, a Democrat, argued in favor of the bill. Other representatives, like Rep. Greg Steube, a Republican from Florida, argued against it, saying that it went against Christian beliefs and "what is laid out in Scripture."
Nadler responded:
Mr. Steube, what any religious tradition ascribes as God's will is no concern of this Congress.
Although he articulated the principle of separation of church and state, Nadler did not say "God has no authority in the House of Representatives." You can hear his exact quote in the above video at around three hours, two minutes and 20 seconds.
Punctuation rules for journalism and schoolhouse writing are clear: words in quotation marks ascribed to a real person must be verbatim what that person said.