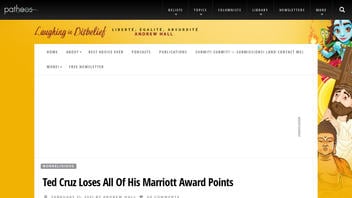 Did Ted Cruz lose all his Marriott points? No, that's not true: The story making the claim about the Texas senator is satirical. It wasn't meant to be real, although some social media users appeared to take it as such.
The claim appeared in a post (archived here) published in the "Laughing in Disbelief" section on patheos.com on February 21, 2021. The article, titled "Ted Cruz Loses All Of His Marriott Award Points," opened:
Marriott International Inc. announced last night that it has revoked the thousands of Marriott Award Points Texas Senator Ted Cruz accrued over the years. The drastic move by the company that has over 30 brands, 7,484 properties, and over 1.4 million rooms is due to Senator Cruz jetting off to Mexico while millions of Texans are suffering from the effects of the recent winter storm.
Users on social media saw this title, description and thumbnail:
Senator Ted Cruz and his wife are no longer welcomed at Marriot International Inc. properties. Cruz's recent immoral behavior earned a lifetime ban.
"Laughing in Disbelief" is written by Andrew Hall. On the site, he makes clear that what he does is satire. Hall writes about his blog:
Under normal circumstances, my humble blog is similar to The Onion. As many of you know, The Onion publishes satirical stories poking fun at everyday problems everyday people face as well as pointing out the hypocrisy of the rich and powerful. Think of Laughing in Disbelief as The Onion on drugs. Like meth. Or bath salts.
Hall says that he includes several "winks" in his posts so that readers know the articles are a joke. One such wink is that someone in the story has a name derived from "canard," which means rumor or unfounded story.
In Hall's post about Cruz, there are purported quotes from an "Andrew Canard," who is identified as the CEO of Marriott. He's not. The actual CEO of Marriott International is Tony Capuano. He was appointed after the unexpected death of Marriott's previous CEO, Arne Sorenson, on February 15, 2021.
Despite the above "wink" and the satire explanation on the site, some users on social media appeared to take the story as true. Its deadpan delivery likely helped with that. Hall's article also played off recent events.
Cruz was widely criticized for taking a family trip to Mexico during the February 2021 freeze-up in Texas. He later admitted it was a mistake to leave his constituents behind during a weather crisis.
See here, here and here for previous Lead Stories fact-checks related to Cruz and the deadly storm.
NewsGuard, a company that uses trained journalist to rank the reliability of websites, describes patheos.com as:
A website that publishes hundreds of blogs on religion, politics, and health, including unlabeled satirical articles and blogs that misstate facts to advance the author's views.
According to NewsGuard the site can generally be trusted to maintain journalistic standards. Read their full assessment here.