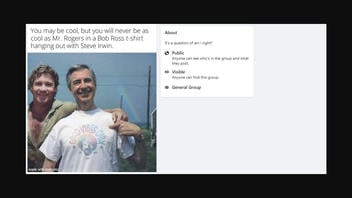 Was children's show host Fred Rogers photographed wearing a Bob Ross T-shirt while hanging out with naturalist Steve Irwin? No, that's not true. The viral image is a composite of two different photos of Rogers and Irwin, both deceased. The two were never together for a photograph and the spoofer also added a Bob Ross logo and rainbow sky to the authentic photo of Rogers.
The claim appeared as a Facebook post (archived here) published on March 18, 2021. It opened:
You may be cool, but you will never be as cool as Mr. Rogers in a Bob Ross t-shirt hanging out with Steve Irwin.
This is what the post looked like on Facebook at the time of writing:
The picture of the beloved "Mister Rogers' Neighborhood" star wearing a T-shirt of the late "Happy Little Trees" artist standing with his arm around the "Crikey!" naturalist has spawned numerous memes.
The edited picture was posted originally on the Instagram account @_vemix_ on March 14, 2021. The caption read, The Wholesome Trinity #steveirwin #mrrogers #bobross.
Here is a screenshot of the composite image as it first appeared on Instagram before it was turned into a meme.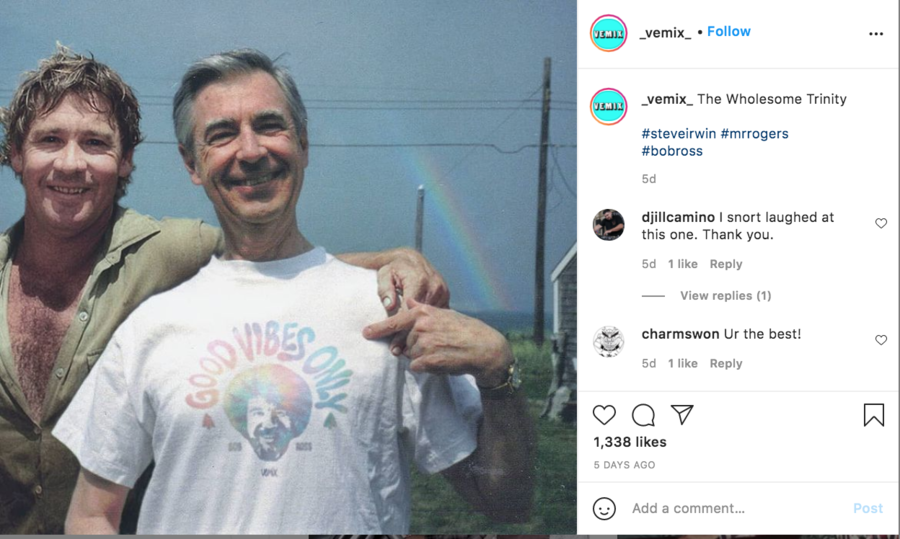 The authentic photo of Fred Rogers was posted on a friend's Facebook page on the 10th anniversary of his February 27, 2003 death. He was wearing a T-shirt from his friend's company, Davide's Tomato Sauce. The caption read:
We want to commemorate the passing of Fred Rogers, the warmest heart that ever lived. Good Friends with the owner of Davide's Tomato Sauce, Fred Rogers and David Calamosca held a strong friendship that was nurtured by the passion of promoting a kind and healthy living. Mr. Rogers (March 20th, 1928 - February 17th 2003). God Bless.

In the composite, the "Davide" logo has been covered with the posterized face of the late Bob Ross, host of "The Joy of Painting" television show, with the words "Good Vibes Only" in rainbow colors.
The image of the late "Crocodile Hunter" TV host Steve Irwin appears to be drawn from authentic photos offered in the Getty Images catalog of Irwin in 2003 in Australia with his father, Bob Irwin. To make the "Trinity" composite, Irwin is layered under Rogers. Rogers' right shoulder, a hard line in the original, is feathered through the background-removing magic of image-editing software. A hairy left arm to match Irwin's hairy chest has been added to look like it is clasping Rogers' left shoulder. Notably missing is the large wristwatch that appears in most photos of Irwin's left wrist.
Also, a happy little rainbow not seen in the authentic originals is added in the background of the composite.