STORY UPDATED: check for updates below.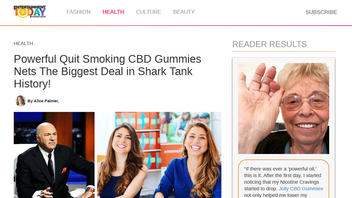 Did Donna and Rosy Khalife net "the biggest deal in 'Shark Tank' history" by pitching "powerful quit smoking CBD Gummies"? No, that's not true: When the Khalife sisters appeared on the ABC television program, they sought funding for the company they co-founded, Surprise Ride, a box subscription service focused on hands-on learning activities for children. But a post falsely claims they were on "Shark Tank" to pitch CBD gummies as a stop-smoking aid. It's an apparent ruse to use their celebrity to sell someone else's product. The sisters tell Lead Stories they are "in no way affiliated" with the CBD gummies product.
The claim appeared in an article (archived here) with no publish date on the website under the title, "Powerful Quit Smoking CBD Gummies Nets The Biggest Deal in Shark Tank History!" It opened:
Donna and Rosy Khalife, sisters and chemists from MIT, net the biggest deal in Shark Tank history as all 6 Sharks teamed up to seed the company with an a staggering $2.5 million dollars! In just a short 6 months, their product has completely disrupted the Smoking industry in the United States, and with the help of the Sharks, they are now ready to take over the world market.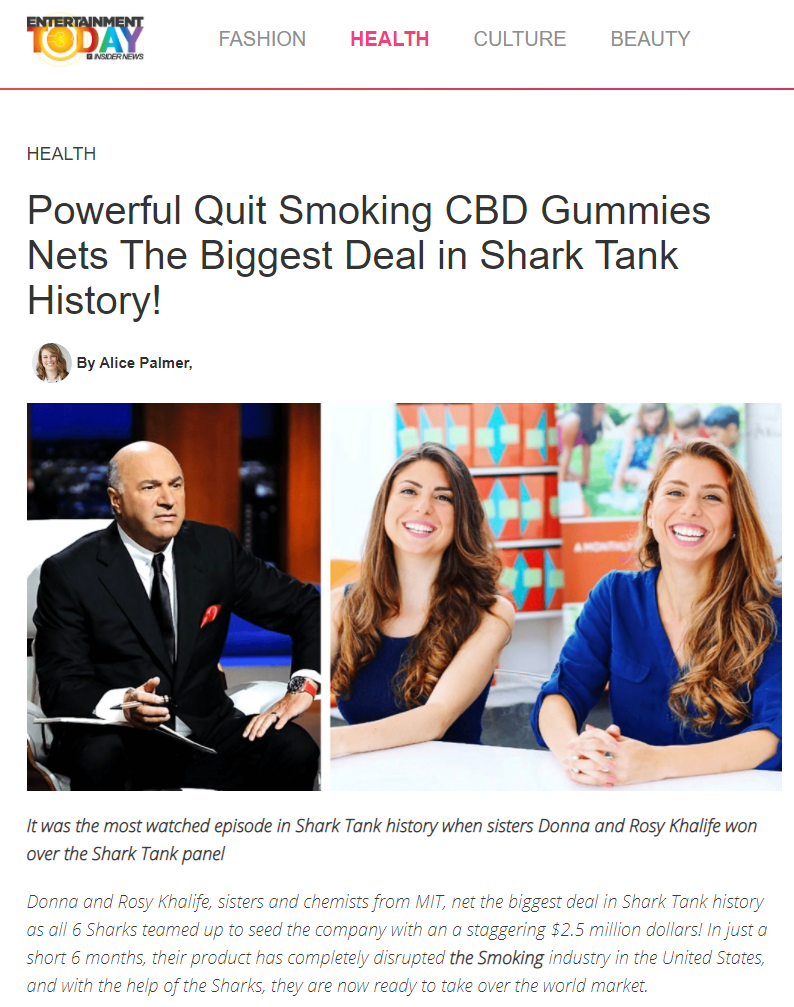 The bogus post tries to look like a bylined article on a news site, the health page of Entertainment Today/Insider. In actuality, the post is an advertisement, offering links to buy CBD gummies.
Neither Donna Khalife's website nor her LinkedIn page mention any association with CBD gummies. Rosy Khalife's LinkedIn page also does not mention any association with the product in question.
Lead Stories contacted the Khalifes about the claims made in the post. In an email response on March 23, 2021, they said:
We are in no way affiliated with Jolly CBD Gummies and never pitched this product on Shark Tank. We are the inventors of Surprise Ride, which delivers activity kits to kids in the mail that give them a break from screentime. We don't support any ads or claims using our likeness to sell Jolly CBD Gummies.
The sisters had asked the "Shark Tank" panel for $110,000 in exchange for a 10% stake in their Surprise Ride company, but left the show in 2013 (according to Donna's LinkedIn profile) without a deal. The Khalifes' association with "Shark Tank" as co-founders of Surprise Ride is well-documented, including in a December 2, 2018, CNBC.com article, a February 22, 2018 Washington Business Journal article and an August 26, 2014, Surprise Ride YouTube video about the Khalifes' appearance on the television show.
Though the Khalifes left "Shark Tank" without winning financial backing, shark Kevin O'Leary later became a Surprise Ride investor, according to the Washington Business Journal article above as well as a March 23, 2016 article about Rosy Khalife on the website of Providence College, from which she graduated in 2013 with a marketing degree. Donna, a Harvard Business School graduate, had careers in investment banking and acting before co-founding Surprise Ride. She discussed her career choices and also her company in a September 18, 2018, interview on Eric Koester's podcast.
Fat Brain Toys, which manufactures and sells educational toys and games, purchased the assets of Surprise Ride in 2018, but the sisters currently "have no ongoing role with our company," wrote Mark Carson, Fat Brain Toy's president and co-founder, in a March 19, 2021 email to Lead Stories.
2021-03-23T20:53:46Z

2021-03-23T20:53:46Z

This story has been updated with a comment from the Khalife sisters.