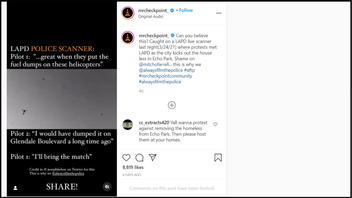 Were Los Angeles Police Department pilots caught talking about dumping gas and lighting it on fire on protesters and homeless people? No, there's no evidence the people speaking in a recording posted on social media were staff of the Los Angeles Police Department. The recording surfaced with two voices discussing such actions during March 24, 2021, protests, in which demonstrators were trying to stop the removal of homeless people in the Echo Park area of Los Angeles. The LAPD denied its officers were the ones on the recording in a video statement posted on Twitter. The frequency from which the recording was obtained is not a police channel, but is an LA traffic frequency used for anyone flying at or below 2,000 feet so aircraft can coordinate with each other.
The claim appeared as a post (archived here) where it was published on Instagram on March 26 2021. It opened:
Can you believe this? Caught on a LAPD live scanner last night(3/24/21) where protests met LAPD as the city kicks out the house less in Echo Park.
Social media users saw this: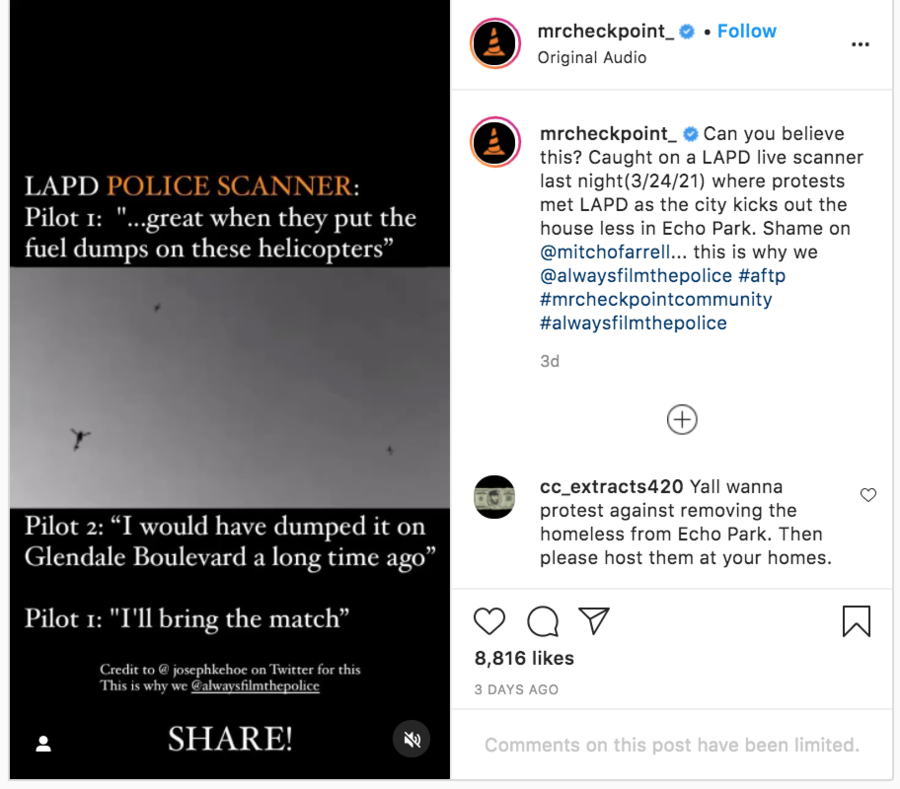 The words on the recording are captioned and say:
LAPD POLICE SCANNER:
Pilot 1: "...great when they put the fuel dumps on these helicopters
Pilot 2: "I would have dumped it on Glendale Boulevard a long time ago."
Pilot 1: "I'll bring the match."
Glendale Boulevard borders Echo Park on the west side of the park. The protest was held outside the park.
There is no evidence that the people in the audio were employed by the LAPD.
The LAPD released a 59-second video statement by Capt. Stacy Spell denying the department's officers were on the recording. In it he said:
A post circulating on social media attributes a vile and disturbing commentary between two helicopter crew members as being employees from the LAPD. An investigation was initiated and it has been confirmed that they are not employees of the LAPD.
There was a command review by Air Support Division of the radio transmission and the helicopters depicted in the video. The voices heard are not associated with LAPD crew members or personnel.
Also the helicopters in the video are seen hovering. LAPD pilots rarely, if ever, hover. During flight school and training, hovering is not recommended due to flying at low altitudes with a single engine aircraft.
Also the radio frequency used during this incident is a common aviation frequency used by all aircraft pilots in the area. Helicopters, airplanes, news, tours etc. A pilot can be over Santa Monica or in the Valley and communicate clearly over this frequency.
Our investigation definitively determined that these were not LAPD crew members or employees."
View our LAPD video statement to a post circulating on social media of a vile and disturbing commentary between two helicopter crew members. We can confirm they are NOT employees of the LAPD. pic.twitter.com/2ne8rhM2Wm

-- LAPD HQ (@LAPDHQ) March 26, 2021
According to Lead Stories' research into the recording found on Broadcastify, it is primarily drawn from one frequency: 123.025 MHz, which is the Los Angeles Basin helicopter-to-helicopter channel.
The recording was originally posted on Twitter. That Twitter user has expressed doubts that the recording was from the LAPD on Twitter but explained they first heard the audio on Brodcastify and posted it, believing it was an LAPD conversation. They wrote:
clarification: this audio was recorded at approx. 11:20pm on 3/24 from a feed on http://broadcastify.com/listen/mid/8 (possibly the "helicopter air to air" one). it has been brought to my attention that this audio may have come from a news chopper instead of LAPD.
apologies as i genuinely believed this was recorded from LAPD when first posting this. i have been trying to verify the exact source of the audio since this concern was raised to me but have not been able to so far.

-- joe (@josephkehoe) March 26, 2021