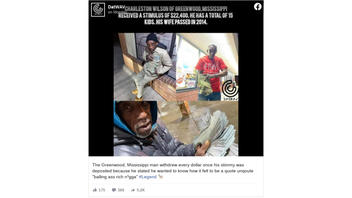 Did a man, Charleston Wilson of Greenwood, Mississippi, receive a stimulus payment of $22,400 and pose for photos with large stacks of cash? No, that's not true: While the identity and location of this man remains a mystery, the photographs of him with large stacks of cash predate the stimulus payments, and the Facebook page that created this meme has said that this was a "joke that got out of hand," so there is no reason to believe this is a true story.
The photos appeared in a post (archived here) where it was published by DatWAV on March 22, 2021, with the caption, "The Greenwood, Mississippi man withdrew every dollar once his stimmy was deposited because he stated he wanted to know how it felt to be "balling ass rich..." #Legend
.
The text of the meme read:
Charleston Wilson of Greenwood, Mississippi received a stimulus of $22,400. He has a total of 15 kids. His wife passed in 2014.
This is what the post looked like on Facebook at the time of writing:
(Source: Facebook screenshot taken on Thu Mar 25 18:52:00 2021 UTC)
As the post went viral, some people expressed concern for the man's safety, while others tried to estimate the amount of money he was holding in each of the photos. Each picture appears to have been taken on different days at different locations with different stacks of cash. The page DatWAV commented on its own post, reassuring its audience that this was a joke.

Performing an image search, Lead Stories found on January 29, 2021, the Twitter account "TheChosenOne" @Pabloskywalkin posted a tweet with two photos of this man holding a large sum of cash. One of the photos appears in the DatWAV meme. The cash in a photo from January (or earlier) could not have come from a payment from the American Rescue Plan Act of 2021 which was not signed into law until Thursday March 11, 2021. After the plan was approved, the payments were starting to be deposited directly by the Internal Revenue Service into the bank accounts of many Americans by the following weekend. Not all of the payments were made at the same time and some payments were sent by mail as checks or debit cards.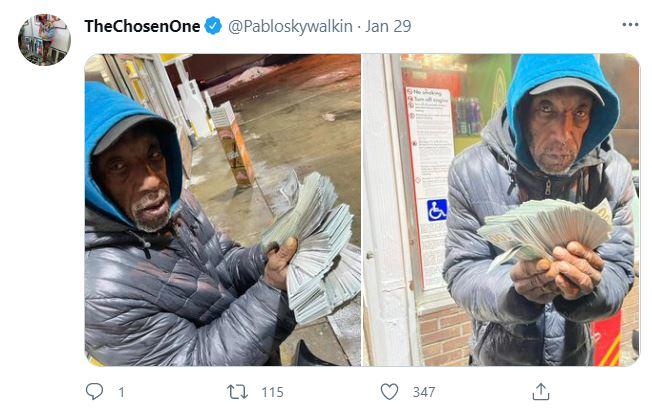 (Source: Twitter screenshot taken on Thu Mar 25 20:31:30 2021 UTC)