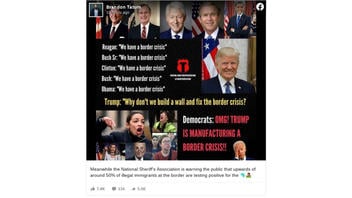 Is the COVID-19 positivity rate among migrants at the border "upwards of around 50%"? No, that's not true: It's less than 6%, according to the acting chief of the Federal Emergency Management Agency (FEMA). The claim cited the National Sheriffs' Association as its source when, in fact, that group has said that estimates fall between 5% and 50%.
The claim appeared in a post (archived here) published on Facebook March 18, 2021. The post includes a meme about the "border crisis," which falls outside the scope of this fact-check. This article is limited to checking the message posted alongside the meme. That message read:
Meanwhile the National Sheriff's Association is warning the public that upwards of around 50% of illegal immigrants at the border are testing positive for the
This is what the post looked like on Facebook at the time of writing:
(Source: Facebook screenshot taken on Fri Mar 19 16:40:38 2021 UTC)
The post appears to refer to a draft resolution released by the National Sheriffs' Association. The resolution calls on the federal government to secure the border, noting the challenges brought on by the COVID-19 pandemic. The resolution, which is expected to be voted on at the association's annual conference in June, reads:
Estimates are that between 5 and 50% of the persons crossing without documentation are COVID positive.
The Facebook post exaggerates that range, saying it starts at 50 percent, while the resolution caps it at 50 percent.
Lead Stories reached out to the National Sheriffs' Association to ask the source of their statistic. In an email, dated March 19, 2021, spokesman Patrick Royal said the numbers represent a "range of different types of the experiences in communities," and that each sheriff and federal authorities have different experiences.
According to Bob Fenton, FEMA's acting administrator, the COVID-19 positivity rate among migrants at the border is less than 6%. He spoke before a U.S. House of Representatives Appropriations Subcommittee on Homeland Security on March 16, 2021. When asked about testing on the border, Fenton said:
There's testing happening. What we're seeing is less than 6% positive right now, coming across the border.
Here is a direct link to that section of his testimony.
The full hearing is available via C-SPAN in the video embedded below:
Lead Stories reached out to U.S. Customs and Border Protection (CBP) to ask about the positivity rate. A spokeswoman did not address our specific request, but emailed a general statement on COVID-19 testing and protocols on March 19, 2021. It read:
CBP uses a combination of onsite contract medical personnel and referrals to local health systems to provide medical support for persons in custody who require medical attention. CBP personnel conduct initial inspections for symptoms or risk factors associated with COVID-19 and consult with onsite medical personnel, the U.S. Centers for Disease Control and Prevention (CDC), or local health systems as appropriate. Onsite medical personnel can provide basic assessment and supportive treatment, but suspected COVID-19 cases are referred to local health systems for appropriate testing, diagnosis, and treatment. These COVID-19 procedures are consistent with longstanding CBP procedures for preventing the spread of communicable diseases.
Dr. Marcella Nunez-Smith, chair of the White House's COVID-19 health equity task force, addressed the double issue of migrants and COVID-19 during an interview with CBS' "Face The Nation" on March 14, 2021. When asked whether there's any evidence that undocumented migrants are spreading the virus, specifically in Texas, she responded:
I have not seen any evidence to support that at all. I mean, I think that it's very important for us, you know, again, as we talk about our goal to vaccinate an entire nation, that we not divide ourselves in this process.
For context, the seven-day COVID-19 positivity rate in Texas, reported on March 19, 2021, was more than 8%, according to the latest numbers from Johns Hopkins University's COVID data clearinghouse.