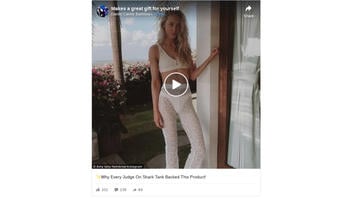 Was this product -- keto diet pills -- backed by "every judge on Shark Tank"? No, that's not true: These fake promotions are part of what's called a "subscription scam." These pills were never presented on the TV show "Shark Tank" and were never backed by a single judge.
Many of the Shark Tank "sharks" have spoken out about these scams, which use their names and photos. The scams also use, without permission, photos of celebrities and people who have documented their own weight loss journey.
The false claims have been circulating for years. Recently a post (archived here) was published by the Facebook page "Danilo Caires Barbosa" on April 11, 2021, under the title "✨Why Every Judge On Shark Tank Backed This Product!"
This is what the post looked like on Facebook as of April 13, 2021:
(Source: Facebook screenshot taken on Tue Apr 13 20:10:04 2021 UTC)
Under the short video was the caption, "Makes a great gift for yourself" and a link to jmzslm.com, where the fake promotional website page selling the pills is found. Lead Stories is not linking to this website because we found evidence the website has been commandeered by another user and may be spreading malware. The headline at the top of that page reads:
28+lbs in 4 Weeks: New No-Exercise 'Skinny Pill' Melts Belly Fat. Why Every Judge On Shark Tank Backed This Product!

(ET, Wednesday, April 14, 2021) - It was the most watched episode in Shark Tank history when sisters Anna and Samantha Martin won over the Shark Tank panel.
Never before had the judging panel unanimously decided to each invest millions of dollars into a potential company.
After buying a staggering 25% share in the sisters' company, the Shark Tank panel have personally mentored the pair, helping them undergo re-branding and re-packing of their miracle product.
Touting their discovery as "the greatest step forward in weight-loss history," the judges were quick to offer up their hard earned cash to back the entrepreneurial pair.
"We were shocked. The most we were hoping for was some advice...we weren't even sure that we would manage to get any investors," explained Samantha.
After outstanding offers from each panel member, the sisters burst into tears.
The webpage is designed to look like an article from Fox News, with Fox logos at the top and bottom as well as fake, nonfunctional news banners with tabs such as U.S., World, Opinion, Politics, Entertainment, etc. The website's pitch about pills, in this case named OneShot Keto, tries to explain away the reason that there is no record of pills by that name being on "Shark Tank." It says they have "rebranded" and changed their name and packaging.
This is not true. There are no keto diet pills by any name that have ever appeared on "Shark Tank."
"The product we displayed on the show has been rebranded into OneShot Keto . It's the original formula, all we've done is change the name and the packaging," explained Samantha.
The sisters launched the product for sale through their company website and say they sold out within 5 minutes.
"We even made sure we had more product than we thought we could sell, but all of it sold out within five minutes!" exclaimed Samantha.
While the Shark Tank investors are toasting to their smart business move, women around are flocking online to purchase OneShot Keto and say the results have been life-changing.
Clinical trials have uncovered that women who use OneShot Keto were able to drastically reduce fat, and with continued use, prevented weight gain from reoccurring.
"OneShot Keto is revolutionizing weight loss medicine," explained Barbara Corcoran from Shark Tank.
Lead Stories investigated other websites making the same false claims about "Shark Tank" investors promoting their products and found identical spoofed Fox News websites selling pills with different names such as My Keto Boost, Exceptional Keto, Keto VIP, Keto MD, Keto Plus, Keto Fit Pro, Keto Fat Burner and many more.
On November 13, 2019, ABC posted "PSA: Beware of Shark Tank Scams." It said:
The Internet has become overrun with advertisements featuring products allegedly endorsed by Shark Tank or the Sharks. Many merchants are using the names and images of the show and the Sharks in an attempt to sell their products. Unfortunately, with every new episode comes the opportunity for imposters to use false information to exploit the unwary. While many products claim to have been on Shark Tank, that is not always the case. Visit abc.com/sharktank to find the official list of products that have appeared on Shark Tank.
One of the "Shark Tank"'s sharks, Lori Greiner, went on social media to ask for help, saying she's never done a keto or diet product. Her name and image is being used to scam people, and these fake keto products have never appeared on "Shark Tank," her video says. She implored her audience to share her warning about this scam. She recommends that if someone is in doubt they can go to her website to see the list of products she endorses. She also has a page on her website dedicated to this problem.
BEWARE - I DO NOT DO ANY KETO PRODUCTS. My image & name, are being used on FAKE Facebook/Instagram/Twitter ads. - I do not promote any Keto, weight loss or diet products, it's a scam. PLEASE SHARE! #SharkTank #FakeNews #Keto #ketodiet #FakeKetoAds #KetoAdScams #KetoScams pic.twitter.com/dw3I39TtMG

-- Lori Greiner (@LoriGreiner) November 18, 2019
Greiner also appeared in December 2019 on "The Dr. Oz Show," along with fellow shark Barbara Corcoran and a special agent from the FBI cybersquad, Bob Cameron, in a segment to alert the public to the scams and how they work. The sample ad used was virtually identical to the website that's the subject of this fact check. The only differences are the URL of the landing page and the name of the keto pills.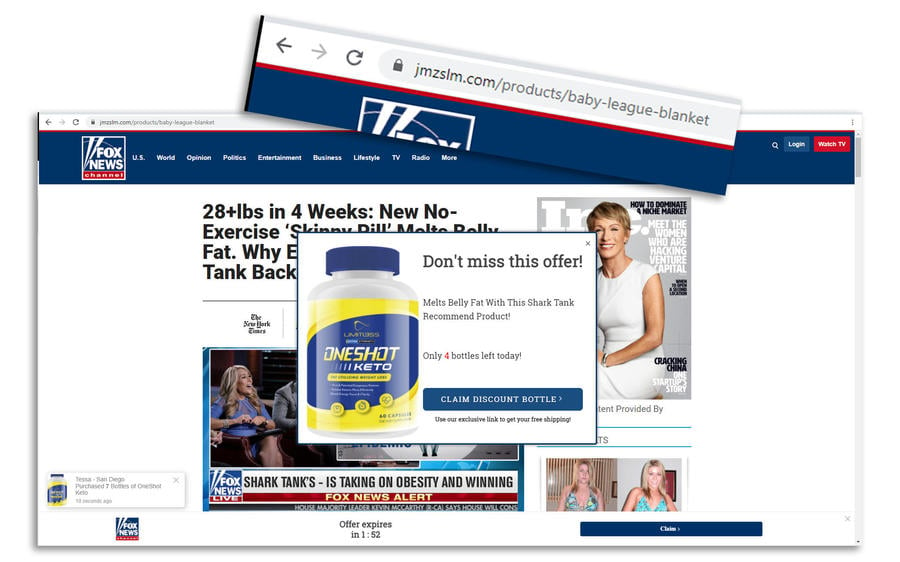 (Source: Lead Stories illustration captured from screenshot Wed Apr 14 20:33:06 2021 UTC)

Another shark, Mark Cuban, took to Twitter to alert the public and law enforcement, tagging the Federal Trade Commission and FBI.
@ftc @fbi these scammers are taking tens or millions from hard working Americans. Please throw them in jail https://t.co/FCBj5034Nz

-- Mark Cuban (@mcuban) July 28, 2019
The AARP has also issued a warning, "Beware Keto Diet Pill Scams," which tells the stories of two different people taken in by the false advertising. They thought they were going to spend about $20 but wound up with charges to their credit cards over for over $200. This is typical.
A search of the Better Business Bureau database for the word keto brings up many pages of results, with most of the nonaccredited businesses earning an F rating due to the complaints. These reports are very consistent in describing various aspects of the scams; It typically begins with a "free trial offer- just pay shipping," which then results in an automatic and difficult to cancel subscription to monthly shipments of the pills, which result in automatic credit card charges.
Lead Stories recently published an article about a similar scam involving a CBD product that was purportedly on "Shark Tank."