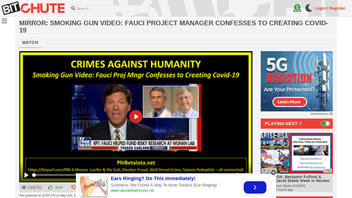 Did Dr. Anthony Fauci's "project manager" confess to creating COVID-19? No, that's not true: The claim is based on an old interview with Dr. Peter Daszak, president of EcoHealth Alliance, a global environmental health organization. The video that purportedly includes his admission only shows Daszak talking about coronavirus research; he says nothing about creating SARS-CoV-2, the virus that causes COVID-19. What's more, although the possibility that the new virus came from a lab cannot be ruled out, experts have independently arrived at the conclusion that the preponderance of available evidence indicates it mutated naturally, spreading from animals to humans.
The claim appeared in a video (archived here) published on BitChute on May 12, 2021. The post, titled "Mirror: Smoking Gun Video: Fauci Project Manager Confesses to Creating Covid-19," featured well-known conspiracy theorist Alex Jones. He claimed:
Peter Daszak, the British director of six projects at the Wuhan lab directly funded by [President Barack] Obama and Dr. Anthony Fauci, has confessed on video to weaponizing five viruses in China and combining them into COVID-19.
Users on social media saw this title, description and thumbnail:
DO NOT MISS THE #UNRIG TRUTH TOUR! https://bigbatusa.org 15 May to 6 September -- EPIC! ???? ???????????? ???????????????? ???????????????????? ???????????????????????? & ???????????????????????????? ???????? https://robertdavidsteele.com/contact/subscribe/ ???? ???????????????? #???????????????????? ???????????? ???????????????????????? ???????? https://TheSteeleReport.com ???? ???????? ????????????????????????...
Although Jones made a number of allegations in the roughly 22-minute video, this fact-check will focus on the specific claim about Daszak's supposed COVID-19 confession.
Jones' source for that alleged admission was an old interview Daszak did with Vincent Racaniello, a podcaster and professor of microbiology and immunology at New York's Columbia University. The full video can be seen by clicking in the link below:
On the latest episode of #TWIV Vincent speaks with Peter Daszak, President of EcoHealth Alliance, a global nonprofit organization dedicated to protecting wildlife and public health from the emergence of disease https://t.co/AHuoQASgzY #pandemic #bat pic.twitter.com/eEtJTRfCsj

-- Vincent Racaniello (@profvrr) May 19, 2020
Note that it was published in May 2020. Jones states that the interview was from December 2019 and, indeed, the conversation was recorded in Singapore in December 2019. It just wasn't posted until May 2020.
During the part of the interview that Jones cites, Daszak discusses coronavirus research. At 10 minutes, 18 seconds, he says:
You can manipulate them in the lab pretty easily. Spike protein drives a lot of what happens with the coronavirus, zoonotic risk. So you can get the sequence, you can build the protein ... insert into backbone of another virus and do some work in the lab.
Despite what Jones claims, that quote does not support Jones' claim that Daszak confessed to creating COVID-19, nor do any of Daszak's other quotes in the interview.
Lead Stories reached out to Racaniello to ask about Jones' claim. In an email to Lead Stories, dated May 18, 2021, he wrote that Daszak was discussing experiments. Racaniello wrote:
He didn't confess to any such thing. These experiments are needed to examine the pandemic potential of viruses that circulate in bats.
Racaniello explained:
You go into caves in China and sample bats for CoVs. You collect bat guano and sequence it to find the viruses. You don't actually have the viruses, just their genome sequences. You want to know if these viruses have the ability to infect human cells. Since you don't have the viruses, you just take the spike sequence from all these viruses and put it into a bat coronavirus that you work with in the lab. Then you see if that recombinant coronavirus can infect human cells. It's all done under containment to prevent any release. If the spikes of the bat CoV can allow the CoV to infect human cells, then they have the potential to infect humans and we should be making antivirals against them to prevent a pandemic. The bat CoV that they use are very distantly related to SARS-CoV-2 and could not have been the source of the pandemic.
The search for the origin of the virus that causes COVID-19 was, at the time this fact check was written, still under way.
In March 2021, a World Health Organization (WHO)-convened study team released a report saying "a laboratory origin of the pandemic was considered to be extremely unlikely." The team considered direct zoonotic spillover to be a possible-to-likely pathway; introduction through an intermediate host as a likely to very likely pathway; and introduction through cold/ food chain products as a possible pathway. A zoonotic disease is a disease that passes between species, from animals to humans and vice versa.
Similarly, in March of 2020, a team of five microbiologists from the U.S., U.K. and Australia, showed their genetic analysis concluded a human-caused release of the virus from a laboratory was less likely than cross-over from animals to humans.
That's not to say the COVID-19 lab theory can be ruled out 100%. Following the release of the above WHO-convened report, a group of scientists said in a letter to Science that the possibility deserved further consideration. They wrote:
We must take hypotheses about both natural and laboratory spillovers seriously until we have sufficient data. A proper investigation should be transparent, objective, data-driven, inclusive of broad expertise, subject to independent oversight, and responsibly managed to minimize the impact of conflicts of interest.
Regardless of the yet-to-be-settled questions of trained experts with experience in the field of virus origins, Jones simply declares the pandemic was intentionally unleashed. At 16 minutes, 33 seconds, he claims the existence of a nefarious and grand plan:
Going out into nature and harvesting the wild viruses, splicing them together, then releasing them, creating a worldwide shutdown, posing as the savior, was only one half of the equation. Now you see the rest of the equation: bullying the world population into taking experimental mRNA vaccines that change our very DNA.
None of that is true.
There's no public evidence the virus was launched on purpose, just as there's no proof that COVID-19 vaccines revise your DNA. Lead Stories has researched both claims before. See here and here for those debunks.