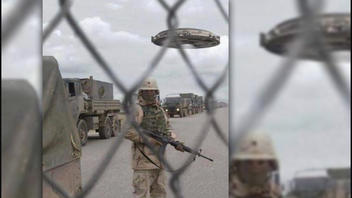 Did a giant flying saucer hover over a military convoy while a soldier stood guard, seemingly oblivious? No, that's not true: This image was entered in a creative UFO Photoshop contest in December of 2005. It is a doctored composite of several elements including the military convoy, the UFO, the chain link fence and some additional sky to extend the vertical dimension of the original picture.
The image was entered in a 2005 Photoshop contest and within days it was reposted on Facebook with a caption about Area 51. The image has resurfaced in a post (archived here) where it was published in the group "Mysterious Aliens" on May 18, 2021 with only the caption:
👽 Join Group Watch More : Mysterious Aliens
This is what the post looked like on Facebook at the time of writing: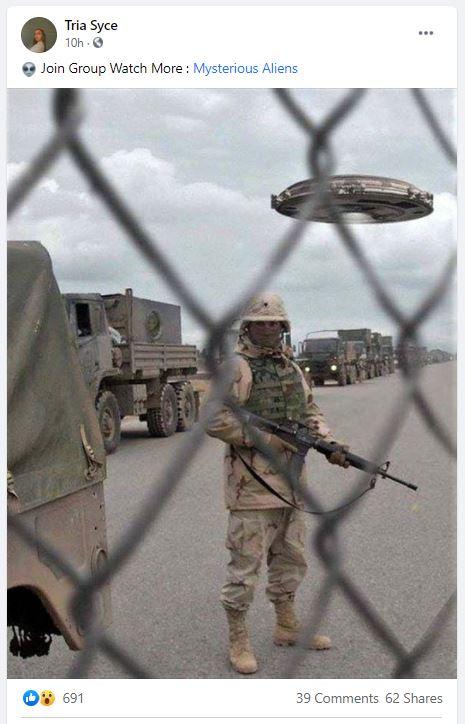 (Source: Facebook Screenshot taken on Tue May 18 21:34:01 2021 UTC)
The Photoshop contest was organized by the website designcrowd.com.This designer's community had regular Photoshop contests, and the UFO themed contests were named "Sightings." This image was entered by the user "AtomicTitan" in the "Sightings 7" contest. The contest rules were:
Do you believe in UFOs? Have you ever seen one? I've spent many a night staring through my skylight hoping, upon hope that I would finally see one. No luck. Heck, I want to believe. Show me what you've seen.

The rules of this game are thus: Your job is to create a UFO / abduction photo that looks so real, had it not appeared at Worth1000, people might have done a double take. Therefore it should contain some kind of 3d perspective, lighting or movement within it to make it ultra-realistic. As always, quality is a must. We will remove poor entries no matter how much we like you. You'll have 48 hours for this contest, so make your submissions count.
AtomicTitan included with the entry a link to their website that pointed to the source images they had used to create the UFO picture. That website is no longer functional and the Wayback machine's archived snapshot of the webpage in 2006 only shows four "broken image" icons. Lead Stories was not able to find the source image for the UFO, but the image of the convoy, without the chain link fence effect in the foreground, dates back to that period of the Iraq War.

The photo of the convoy has appeared in several blog posts, one from November 6, 2006, written in Armenian; and a photo montage YouTube video tribute to U.S. and Australian soldiers. Lead Stories was unable to find any captioning with the photo that identified an exact date or location.
Days after the designcrowd.com contest closed, on December 20, 2005, AtomicTitan's image appeared on Facebook on the Mexican UFO page called "The Great Deception." The image was captioned, "SUPUESTO OVNI EN UNA BASE MILITAR DE AREA 51." Translation: "Alleged UFO at an area 51 military base."
The original convoy image was also used in a meme: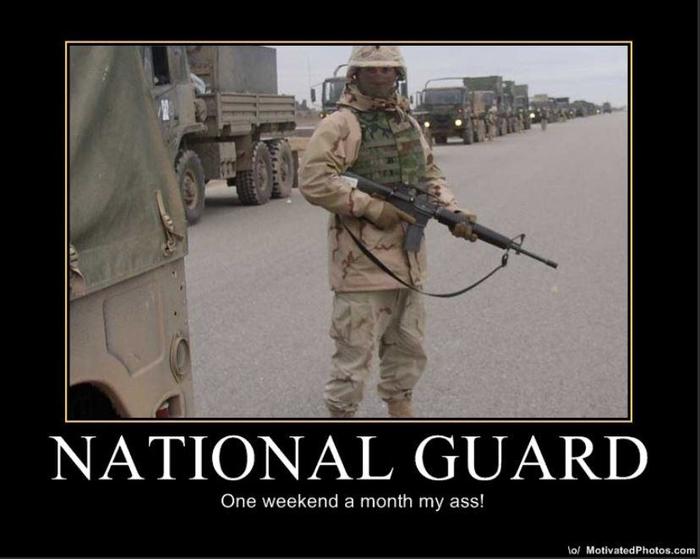 (Source: me.me Screenshot taken on Tue May 18 22:19:11 2021 UTC)