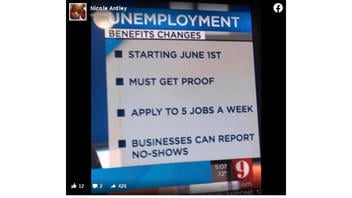 Have federal unemployment insurance (UI) rules changed to require recipients to search for jobs starting on June 1, 2021? No, that's not true: although more than half of the country's states have reinstated their job search requirements, a job search is not a national requirement to receive UI benefits.
The claim, which did not explicitly state where the specified UI benefit changes would occur, appeared in a Facebook post (archived here) published on May 14, 2021. The post featured a picture of a graphic attributed to WFTV, an ABC News affiliate in central Florida. The graphic in the picture states:
Unemployment Benefits Changes

Starting June 1st
Must get proof
Apply to 5 jobs a week
Businesses can report no-shows
This is what the post looked like on Facebook on May 17, 2021:
(Source: Facebook screenshot taken on Mon May 17 19:11:25 2021 UTC)
Federal guidelines specify that UI benefits are administered by states, which can each have different rules. Recipients of UI benefits must be unemployed through no fault of their own, must meet their state's work and wage requirements and must meet any other state requirements.
The job-hunting rule was relaxed during the economic shutdown caused by the 2020 COVID-19 pandemic. The Families First Coronavirus Response Act, enacted under the Trump administration in 2020, conditioned emergency administration grants on waivers or easing of the job search requirement. According to a fact sheet released by the White House on May 10, 2021, 29 states already reinstated their job search requirements for UI benefits. At the time of this writing, at least 18 states have decided to opt out of federal unemployment assistance programs because employers are reporting that they are having difficulty finding applicants to fill vacant positions due to higher UI benefit payments.
Florida is one of the states that will reinstate its job search requirements for UI benefits. The job search waiver will continue to be in effect until May 29, 2021, according to the Florida Department of Economic Opportunity's (DEO) website. A screenshot of the announcement is below:

(Source: Florida DEO screenshot taken on Mon May 17 17:32:25 2021 UTC)
The Florida DEO website's Frequently Asked Questions section for UI benefits claimants also stated that:
Generally, you are required to provide five work search contacts for every week of benefits you request from DEO. This is only applicable to weeks before March 15 and after April 24, 2021.
Dane Eagle, secretary of the Florida DEO, announced in a May 12, 2021, videotaped press conference that the job search requirements for Florida would be reinstated on June 1, 2021, as a part of Florida's Return to Work initiative (at the two-minute, 46-second mark). Starting at the three-minute mark, Eagle also verified that employers can confirm whether UI benefits recipients are following job search requirements.
A tweet from Eagle's official Twitter account verifying the change is embedded below:
Today I was joined by business owners & industry leaders to announce Florida's Return to Work initiative.

With 400,000 jobs available in Florida's booming economy, work search requirements will be reinstated June 1. @FLDEO & @CareerSourceFL are ready to assist in job placement! pic.twitter.com/zXRyqG1KXI

-- Dane Eagle (@DaneEagle) May 12, 2021
Lead Stories reached out to the U.S. Department of Labor for more information about federal changes to UI benefits and to the Florida DEO for confirmation that the UI benefits changes stated in the Facebook post are accurate. We will update the story, as appropriate when the agencies respond.