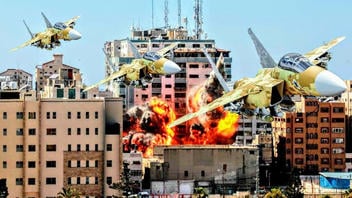 Are Turkey and Russia getting ready to attack Israel? No, the claim is purely speculative, not supported by facts or evidence. A video making the claim cites two irrelevant sources: The first is a video in which a narrator reads a news story about Turkey's diplomatic efforts to resolve the mid-May 2021 crisis in the Middle East, but no makes mention of Russian or Turkish attacks; The second is a computer-generated image that was created for a military aviation website back in 2012, but has since been mistakenly identified as showing an air attack in Gaza.
The claim appeared in a video (archived here) posted to YouTube on May 16, 2021. Titled "Turkey-Russian Getting Ready to Attack Israel," it includes a montage of images that, given the context of the video, would seem to be shots of the Israeli-Palestinian conflict, which exploded again in May 2021. Atop the images, a narrator read part of an article published by Turkey's state-owned Anadolu news agency. Without giving credit to the agency, the narrator says:
As Turkey continues its efforts to rally support from all relevant institutions, chiefly the United Nations and the Organization of Islamic Cooperation to support Palestine, Recep Tayyip Erdogan has held phone talks with the leaders of nearly 20 nations, including Palestine, Russia, Pakistan, Kuwait and Algeria.
Click below to watch the video on YouTube:
The full text of the Anadolu article can be read here.
Note that it says nothing about an attack by Turkey and Russia on Israel, which the headline of the YouTube post claims. The Anadolu article is just about Turkey's diplomatic efforts, specifically as they relate to Erdogan's conversations with other world leaders.
As the narrator reads the article, several images flash on screen, including the following image: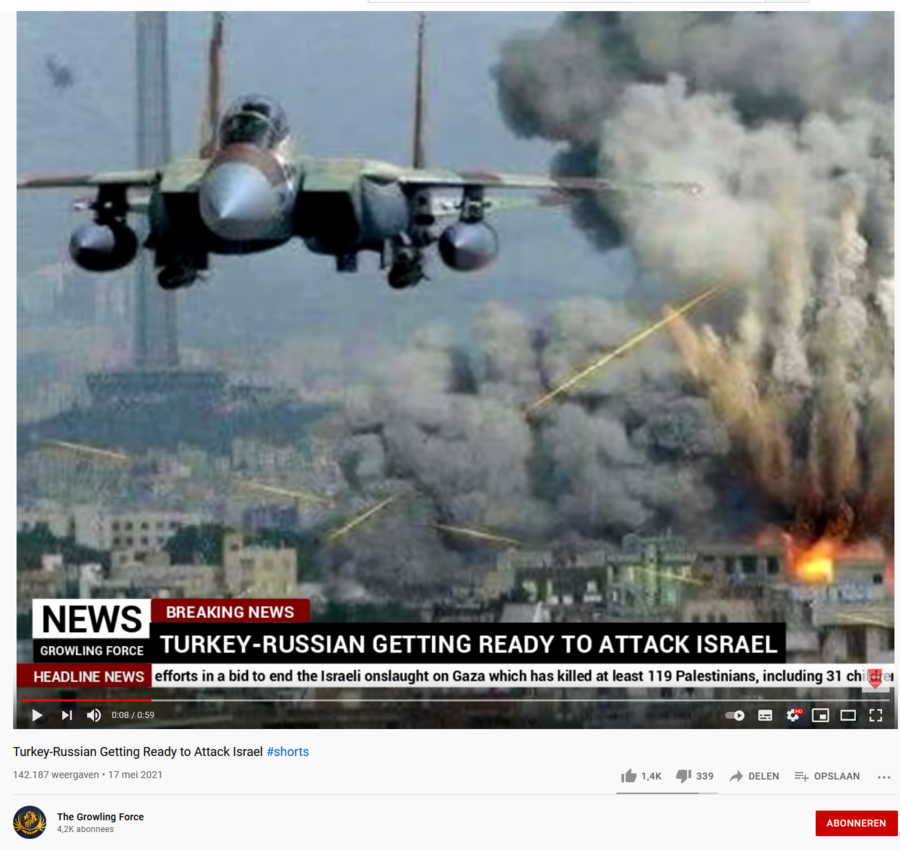 Given the context of the video, including the headline at the bottom, one would reasonably assume the shot showed the current Israeli-Palestinian conflict. It doesn't. In fact, it's not even a photograph. It's a computer-generated image that was created for The Aviationist website to show what an attack on a nuclear facility in downtown Tehran could look like. When the site published the image back in 2012, the accompanying story read:
Obviously, it is only a fictional scene.
Since the image was published, it's been mistakenly identified as showing an air attack in Gaza. HoaxEye, a blog that identifies fake pictures, wrote about the image and its mistaken identity as far back as 2015. See here for that story.
Besides the two irrelevant sources mentioned above -- the Anadolu article and the generated image -- the video offered no proof to substantiate its claim that Turkey and Russia are getting ready to attack Israel. If true, the imminent attack would be front-page news of every news organization in the world. We could find no credible corroboration of the claim.