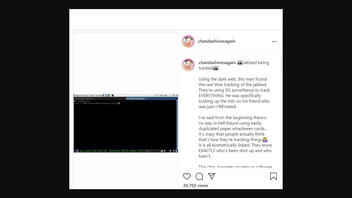 Did a Russian hacker figure out how to get personal information from a chip injected into people who had taken the coronavirus vaccine? No, that's not true: The person doing the voiceover of this video used a server that is no longer in use to pull a prank. Using an impressive-looking computer display, IT knowledge and an inexpensive server, anyone could have done this to a friend. No evidence is provided with the claim to show a "Dark Web" connection, nor that the necessary technology had been injected into a person.
The story first appeared in an Instagram video post (archived here) published on May 20, 2021. The post had been viewed over 23,000 times as of May 21, 2021. The caption of the video read:
👀Jabbed being tracked👀 Using the dark web, this man found the real time tracking of the jabbed. They're using 5G surveillance to track EVERYTHING. He was specifically looking up the info on his friend who was just v*€€!nated. I've said from the beginning there's no way in hell theyre using easily duplicated paper whackseen cards... it's crazy that people actually think that's how they're tracking things🤦🏼‍♀️. It is all biometrically linked. They know EXACTLY who's been shot up and who hasn't. The chip, magneto protein or software implanted in people is feeding constant real time data.... ❗️date, time, location of the jabs ❗️real time tracking ❗️name, address, location, coordinates ❗️even the firmware!!!! (Firmware is the OPERATING SYSTEM- it's computer software that provides the control for a device's specific hardware. Lots more in my stories today about the magneto protein (likely why we are seeing so many people being magnetized), and how electromagnetic frequencies and fields are used to control thoughts and behavior, and track our every move.
Lead Stories co-founder Maarten Schenk, who is a full-time fact checker and experienced programmer with a patent pending on technology that measures and tracks virality of web content, identified in the Instagram video a command to create a video file being run in one window before the operator of the computer switched to another window. In that window the person narrating appeared to enter standard commands to connect to a server and run a program that displays a rolling screenful of code an inexperienced person might think was showing a data stream from a tracker.
Schenk elaborated:
All of this can be easily faked by an semi-competent IT professional by setting up a cheap server for a few dollars and then changing the 'hosts' file on a local computer to point any request on that computer going to a certain domain name towards that server you control. And then creating a small program on that server to print impressive-looking data to the screen. Takes 30 minutes to do if you are competent.
Schenk created a prank on April 1, 2021 to illustrate how a computer display can be made to dazzle people online.
As for injectable chips, Lead Stories on May 12, 2021 illustrated how large a needle would be required and how shallow the injection would have to be to implant a device capable of transmitting data to external readers, debunking a podcaster's claim to have found metal in her body at the injection site.