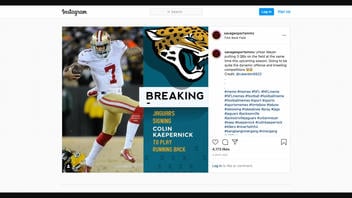 Did the Jacksonville Jaguars sign the free agent football quarterback and activist, Colin Kaepernick, to the position of tight end? No, that's not true: Tim Tebow holds that position, while Kaepernick is not with any NFL team at the moment.
This is a satirical post poking at the Jacksonville Jaguars because some football players and activists have complaints about a double standard concerning Tebow returning to the league after an eight-year hiatus, while Kaepernick has still not been signed after a four-year hiatus.
The story originated in an Instagram post (archived here) on May 23, 2021. The image on the post reads:
BREAKING - Jaguars Signing Colin Kaepernick To Play Running Back
The caption on the side of the post claims that Urban Meyer, head coach of the Jaguars, is putting three QBs (quarterbacks) on the field at the same time for this upcoming season, which will be "quite the dynamic offense and kneeling competitions." That's a jab at Kaepernick's protests in 2016, when he began kneeling during the national anthem at the start of NFL games to protest police brutality.
The Jaguars announced the signing of Tebow on May 20, 2021, for the position of tight end. Tebow rose to fame at the Denver Broncos, where he had early success as a quarterback and was outspoken about his Christian beliefs, often kneeling in prayer on the field, which became known as "Tebowing."
Lead Stories contacted Kaepernick's representative and the PR teams for the Jacksonville Jaguars and NFL on May 28, 2021, with no responses thus far.