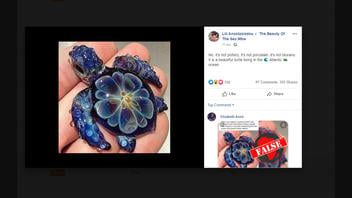 Does this photo show a new species of shiny blue, purple and yellow Atlantic Ocean sea turtle? No, that's not true: It's a piece of glass artwork.
The claim appeared in a Facebook post (now unavailable but archived here) on May 27, 2021. The post was the picture of the sea turtle art with the caption:
No, it's not pottery, it's not porcelain, it's not Murano. It's a beautiful turtle living in the 🌊Atlantic 🐢ocean
This is what the post looked like on Facebook on May 28, 2021: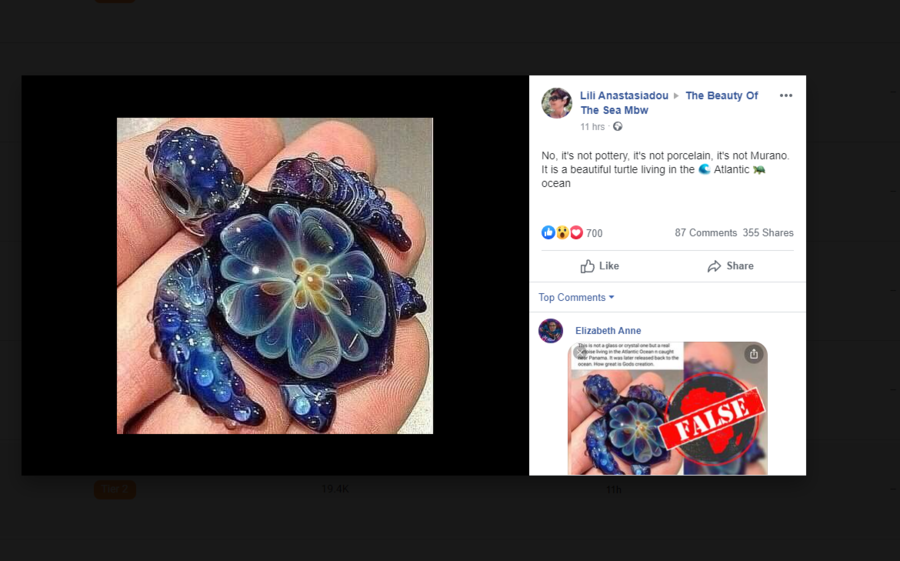 (Source: Facebook screenshot taken on Fri May 28 15:35:51 2021 UTC)
A reverse-image search leads to a lot of reposts of this sea turtle art piece by people trying to pass it off as a real sea turtle.
It also leads to the Pinterest and Instagram pages of glass artists selling the same or similar pendants, which hang around the wearer's neck on a chain or ribbon through the turtle's eye sockets. The Facebook claim is just the latest installment in this content farming game.
A reverse-image search of the photo led Lead Stories to a Russian Yandex search that Google Translate roughly translates to "Ceramic bug living in the waters of the Atlantic." The results of the Russian search led to a whole page of sea turtles; the first half of the page being the glass artwork similar to the Facebook post in the claim above, and the bottom half being real sea turtles photographed in the water or in the palms of people's hands.