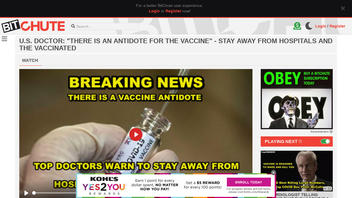 Are COVID-19 vaccines rewriting patients' DNA, sneaking microchips into people's bodies and causing infertility? No, that's not true: The claims are made without citations to research or other evidence and are directly refuted by public health and medical experts in the relevant specialties.
The claims originate in a video (archived here) posted on the BitChute account of WilParanormal on May 25, 2021. Under the caption "U.S. DOCTOR: "THERE IS AN ANTIDOTE FOR THE VACCINE" - STAY AWAY FROM HOSPITALS AND THE VACCINATED," it opens:
In a shocking revelation Dr. Christiane Northrup says that the hospital is the most dan...
Users on social media only saw this title, description and thumbnail:
SOMEONE HAS STOLEN MY IDENTITY TO WIL PARANORMAL WITH A PICTURE OF ME. THEY ARE SAYING GO TO JUDY MIKOVITS CHANNEL AND SUBSCRIBE - THAT IS NOT ME SAYING THIS In a shocking revelation Dr. Christiane Northrup says that the hospital is the most dan...
The video appears to be the recording of a Zoom call during which participants are listening to Christiane Northrup, a Yarmouth, Maine, obstetrician/gynecologist-turned-anti-vaccine-activist who surrendered her license in 2015.
She makes multiple claims in the video, but this fact check will address those that underpin most of what she says.
DNA revisions
At 10 minutes into the video, Northrup says the vaccine is wrecking the DNA of those who take it:
What I do, when I see people in our Maine Stands Up group ... I start talking about the golden DNA. You're going to have the golden DNA. I've talked to [indistinct name] about a dating app for people with the golden DNA. We are gonna be the new species. We are the new species.
The Centers for Disease Control and Prevention addressed this claim in a vaccine fact sheet, saying mRNA vaccines do not interact with human DNA "in any way." Doctors do not conduct gene therapy -- defined as modification of a person's genetic code to treat or cure disease -- by injection of mRNA.
For a March 5, 2021, fact check addressing the same claim of DNA manipulation, Dr. James Lawler, who is board certified in infectious disease and works for Nebraska Medicine, explained to Lead Stories why the vaccines do not alter the function of DNA:
The mRNA vaccines don't make DNA. It (mRNA) is a distinct type of molecule that does not enter into the nucleus of the (human cell.) Your DNA is in the nucleus, its own walled off area. The mRNA from the vaccine remains in the cytoplasm. It gets turned into protein by your cells' own mechanisms. It is impossible for humans to turn RNA into DNA because we don't have the enzyme that is able to do that. Only certain retroviruses have the ability to turn RNA into DNA. That enzyme is not in the vaccine and is not part of the coronavirus.
Microchips in the vaccine
At three minutes, 50 seconds, Northrup makes the claim that COVID-19 vaccinations include microchips, which conspiracy theorists say is a secret tracking device the government will use to control the populace:
Then we haven't even gotten into the fact there's iron nanoparticles in there and people are sticking magnets on the injection site. People are literally feeling the pull of the magnet there. So have they all been chipped.
Northrup goes on to say she has bought an electromagnetic frequency meter to test people for microchips, adding at four minutes, 40 seconds that she doesn't expect to be believed. "This is so dark. It is so nefarious that the average person is just going to have cognitive dissonance."
Lead Stories has gathered in this link a collection of its fact checks of the microchips-in-the-vaccine claims (archived here) and found no evidence from authoritative or credible sources to support those claims. The only microchip associated with the vaccines has been an optional radio-frequency identification tag on -- not in -- syringes, to help public health officials track supplies and usage the way retailers and shippers use RFID tags to track inventory.
Vaccine contents and manufacturing details are part of the documents the Food and Drug Administration (FDA) produces when approving a new drug for use. None of the documentation for the Moderna, Janssen/J&J and Pfizer vaccines list microchips as an ingredient.
Northrup provides no independent evidence from a testing laboratory to support her claim, only web video of an unnamed person holding a beeping meter near someone's arm, something that can be easily faked using an off-screen beeper.
COVID vaccines and infertility
The Centers for Disease Control and Prevention (CDC) and FDA have produced multiple fact sheets, including this one, noting that no adverse effects on fertility have been documented or predicted by medical professionals.
But at three minutes, 15 seconds, Northrup says she tells women to avoid the shot and to avoid sex partners who have had it:
Get the shot if you want to, but you'll never be able to have a baby. And as a board-certified OBGYN ... now you know and you can never say again you did not know. You know ... Look at that guy and say "You get that shot, I'll never have sex with you again.
Lead Stories has examined several claims about infertility and found the claims were made by persons whose credentials were misstated, by persons misstating the contents of published research and by persons selecting quotes from standard drug trial protocols without noting those rules are the same almost no matter what drug is being tested.